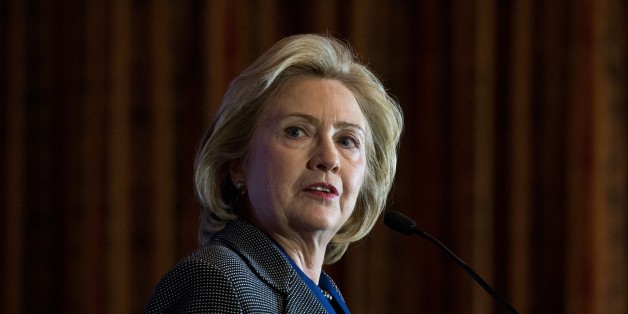 A new poll takes an in-depth look at how Americans perceive Hillary Clinton. Pollsters find common ground in New York, New Jersey and Virginia. And Americans think Republicans are out of touch, but plan to vote for them anyway. This is HuffPollster for Tuesday, March 4, 2014.
CLINTON SEEN AS TOUGH, HONEST, BUT LACKING NEW IDEAS - Pew Research/USA Today: "If she runs for president in 2016, Hillary Clinton would bring a number of potential strengths to the race, from her tenure as secretary of state to her perceived toughness and honesty. Fully 67% of Americans approve of the job she did as secretary of state, while majorities say she is tough (69%) and honest (56%). The public also rejects the notion that Clinton is unlikable – a change from the 2008 Democratic primary campaign….However, the new national survey by the Pew Research Center and USA TODAY, conducted Feb. 27-Mar. 2 among 1,002 adults, finds that Clinton is not widely seen as having new ideas. About half (49%) say the phrase "having new ideas" describes Clinton, while 40% say it does not; 11% offer no opinion. And while Clinton's performance at the State Department is viewed positively, her handling of the 2012 attack on the U.S. consulate at Benghazi, Libya registers as a negative aspect of her background." [Pew Research]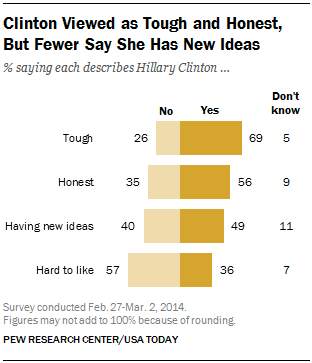 How old is Clinton? - "When asked an open-ended question about how old Hillary Clinton is, 57% of respondents offer an age in the 60s and 31% give an age in the 50s; very few think she is 70 or older (3%) or under 50 (6%).In fact, the public tends to underestimate Hillary Clinton's age (she is 66). About eight-in-ten (83%) give an age of 65 or younger, 2% volunteer her exact age, and just 12% give an age of 67 or higher. The median age offered is 60."
Not the first time pollsters asked about age this way - In 2008, a USA Today/Gallup poll asked the same question about Clinton, as well as Barack Obama and John McCain. They found most Americans didn't think McCain was too old to be president, but that nearly six in 10 underestimated his age. [USA Today]
NY, NJ, VA SHARE SUPPORT FOR CLINTON, MINIMUM WAGE HIKE - Roanoke/Rutgers-Eagleton/Siena College: "A majority of voters in New York (64 percent), New Jersey (59 percent) and Virginia (56 percent) have a favorable view of Former Secretary of State Hillary Clinton, and name her most often in each state as the one eligible person that they would most like to see as the next President….Asked to vote in favor of or opposed to 12 national initiatives, a majority of voters in all three states support seven and oppose one. Overwhelming majorities are in favor of raising the national minimum wage to $10.10 per hour; legalizing the use of marijuana in all 50 states for medical purposes; approving a path to citizenship for people who are in the U.S. illegally, but are working, have no criminal record and pay taxes; approving the Keystone Pipeline to bring oil from Canada to the U.S.; using federal funds to make free Pre-Kindergarten education available to all children; and establishing a national gun registry." [Roanoke]
ABC/POST: GOP 'OUT OF TOUCH,' BUT RUNNING EVEN WITH DEMS ON 2014 GENERIC BALLOT - HuffPollster: "Americans overwhelmingly consider Republicans to be out of touch, and they trust them less than Democrats on the issues -- but that doesn't mean the GOP is in bad shape for the 2014 elections. That's the takeaway from a Washington Post/ABC poll released Tuesday morning, closely echoing a New York Times/CBS survey last month that found Americans saw the GOP as divided, pessimistic and "out of step with the public on a range of issues," but planned to vote for them regardless….Asked whether President Barack Obama and the Democratic Party are in touch with the public's concerns, Americans were about evenly split. But 68 percent said the Republican party is out of touch -- including about 40 percent of those who identify as Republicans themselves. Such results might be expected to take an electoral toll on the GOP, but asked who they'd prefer to send to Congress this November, voters were evenly divided, with 46 preferring a generic Democrat and 45 percent a generic Republican." [HuffPost]
Some context on the generic vote - Dan Balz and Scott Clement: "This 'generic' vote question is not a pure predictor of the outcome of House races, however. Less than half of eligible voters are expected to cast ballots, and the size of Republicans' typical midterm edge is unclear. In October 2006, Democrats held a double-digit advantage on this barometer. That proved enough of a margin, with Democrats capturing control of the House that November. But in the month before Republicans made historic gains and took control of the House in 2010, this indicator still showed narrow support for the Democrats." [WaPost]
Poll also includes a generic Senate vote - Gary Langer: "Perhaps more important, with control of the U.S. Senate at stake, the Republicans have a 50-42 percent advantage for Senate seats in the 34 states holding those contests... in House and Senate races alike, it's independents who are keeping things hot, siding with Republicans for the House by 9 points and for the Senate by 16. It makes more of a difference in Senate races because independents account for slightly more registered voters in those 34 states than in the other 16, while Democrats are scarcer." [ABC]
Interpret that last result with care - Votes are not evenly distributed among the 36 contests for Senate in 2014. To paraphrase Democratic pollster Mark Mellman's example offered via Twitter: Many more votes will be cast for the Republican Sen. Cornyn in Texas in 2014 than will be cast for Democratic Sen. Reed in Rhode Island. [@MarkMellman]
HUFFPOLLSTER VIA EMAIL! - You can receive this daily update every weekday via email! Just enter your email address in the box on the upper right corner of this page, and click "sign up." That's all there is to it (and you can unsubscribe anytime).
TUESDAY'S 'OUTLIERS' - Links to the best of news at the intersection of polling, politics and political data:
-Economic confidence remains flat between January and February. [Gallup]
-In the Connecticut governor's race, Tom Foley leads the Republican field and runs even with Democratic governor Dannel Malloy. [Quinnipiac]
-In Minnesota, both Democrats -- Gov. Mark Dayton and U.S. Sen. Al Franken -- hold early leads for reelection. [SurveyUSA]
-Another New Hampshire poll on 2016 finds a big lead for Clinton a big lead among Democrats and no consensus choice among Republicans. [New England College]
-Charlie Cook sees an increasing chance that Democrats will lose the Senate this November. [National Journal]
-Gallup's Healthways tracking finds the most obesity in Mississippi and the least in Montana. [Gallup]
-Pew Research VP Paul Taylor talks about America's demographic shift [NPR]
-A majority of millennials have taken selfies. [Pew Research]
-Americans are polarized into "grossly misinformed and wholly indifferent factions" in a (fake) Pew Research poll on the Russia-Ukraine conflict. [The Onion]
-An MP3 is not the same thing as C-3PO. [LA Times]
BEFORE YOU GO
PHOTO GALLERY
Hillary And Bill Through The Years