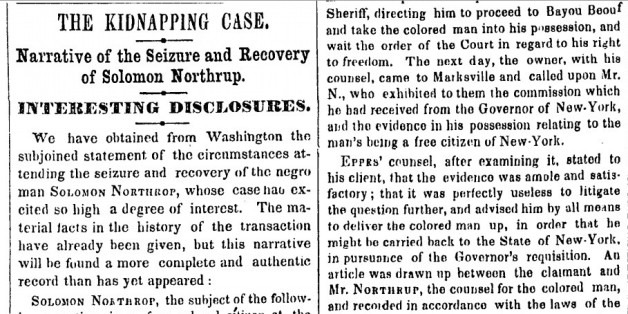 Better late than never?
An 1853 report in the New York Times on the story that would eventually be told in the Oscar-winning film "12 Years a Slave" went viral this week, but sharp-eyed readers spotted something amiss.
Rebecca Skloot, author of "The Immortal Life of Henrietta Lacks," tweeted:
Interesting: That original 1853 article spelled Solomon's name differently in headline vs main article #12YearsASlave http://t.co/olPwzyP0n8

— Rebecca Skloot (@RebeccaSkloot) March 3, 2014
Today, the newspaper of record corrected the record:
An article on Jan. 20, 1853, recounting the story of Solomon Northup, whose memoir "12 Years a Slave" became a movie 160 years later that won the best picture Oscar at the 86th Academy Awards on Sunday night, misspelled his surname as Northrop. And the headline misspelled it as Northrup. The errors came to light on Monday after a Twitter user pointed out the article in The Times archives. (The errors notwithstanding, The Times described the article as "a more complete and authentic record than has yet appeared.")

After the correction was published online, Skloot noted on Twitter: "The irony, of course, is that I'm a terrible speller and proofreader."
BEFORE YOU GO
PHOTO GALLERY
Funniest News Corrections