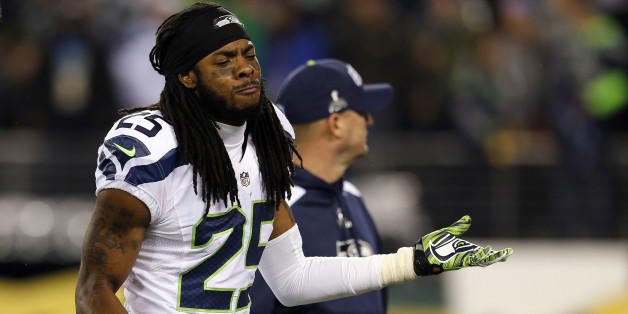 Not everyone thinks that Richard Sherman always chooses his words carefully, but he is undeniably someone who thinks seriously about language. The loquacious Seattle Seahawks' cornerback who majored in Communications at Stanford has spoken out against the proposed ban on the N-word reportedly being considered by the NFL.
"It's an atrocious idea," Sherman told Peter King of The Monday Morning Quarterback. "It's almost racist, to me. It's weird they're targeting one specific word. Why wouldn't all curse words be banned then?"
A rule prohibiting players from using the N-word during games has been promoted by the Fritz Pollard Alliance, a group that monitors racial diversity and equality of job opportunity in NFL coaching, front office and scouting staffs. The group believes the NFL will soon enact a rule that will penalize a player 15 yards for using the N-word on the field during a game.
"I think they're going to do what needs to be done here," John Wooten, head of the Fritz Pollard Alliance, said during the NFL Scouting Combine in Indianapolis, via CBSSports.com. "There is too much disrespect in the game."
Sherman, who decried the word "thug" as "the accepted way of calling somebody the N-word nowadays" after an epic postgame rant thrust him into the national spotlight in January, is not the only one to think the proposed ban is misguided.
"I've got a big problem with this," Michael Wilbon of ESPN said of penalizing players for using the N-word, via The Washington Post. "So you're gonna have a league with no black owners and a white commissioner -- middle-aged and advanced-aged white men -- say to black players, mostly -- because that's what we're talking about -- you can't use the N-word on the field of play, or we're gonna penalize you. I've got a massive problem with that. I don't think it's gonna happen. I know there are black men of the same age -- John Wooten [of the Fritz Pollard Alliance] being one of them -- who say no, you've got to take this word out of the workplace. I understand that. But I don't want it enforced like this."

Sherman's call to ban all curse words rather than just the N-word echoes a comment made by Chris Bosh of the Miami Heat, who felt that all slurs should be banned rather than just one.
"It's a very tough situation," Bosh told Michael Wallace of ESPN.com. "If that's the case, they should ban all slurs. And I know it's a big deal, because I think that word is used too much, especially in the mainstream nowadays."
BEFORE YOU GO