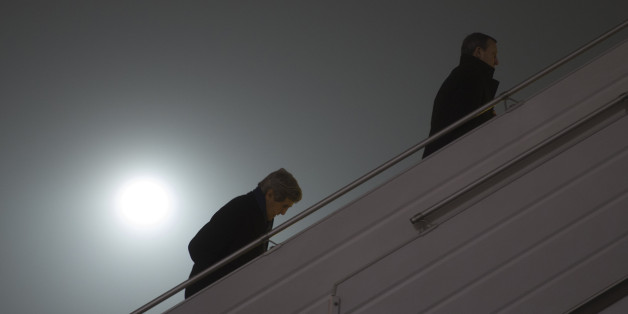 Western powers seeking to de-escalate the crisis in Ukraine face a major diplomatic challenge after Russia's intervention in Crimea placed them on the back foot.
Here are some of the key issues:
- Are Western powers on the same page about Russia's intervention?
Yes, inasmuch as they have firmly criticised Moscow's move, describing it as an "aggression" that "violates international law". There is also wide agreement that a military solution should be ruled out. "As things stand, no one is prepared to die for Sevastopol," one European diplomat said.
Western countries are all calling for a "de-escalation", but they differ on the best way to apply pressure on Russian President Vladimir Putin. The United States has adopted a firmer tone than the Europeans, suspending military cooperation and brandishing a "wide range" of economic and diplomatic sanctions with the purpose of isolating Russia.
The European Union is also suggesting sanctions, albeit on a smaller scale, but first it wants to give dialogue with Moscow a chance, while displaying strong support for the new Ukrainian administration. Ukraine's Prime Minister Arseniy Yatsenyuk will be received in Brussels ahead of an emergency summit of EU leaders on Thursday.
- Russian neighbours advocate a tougher line while Germany favours dialogue
Within the European Union, Poland and the Baltic states (former Soviet republics Estonia, Latvia and Lithuania) which border on Russia are calling for "intransigence" in dealing with Moscow because they believe that the Ukrainian crisis destabilises the entire region.
"What is at stake is the entire Eurasian and European continent that was established after the Cold War," said Temuri Yakobashvili, a former Georgian ambassador to the United States.
Lithuania's President Dalia Grybauskaite believes that Crimea has become a "new frozen conflict", similar to the situation after the 2008 separatist war between Georgia and Russia over South Ossetia and Abkhazia, which "may have serious consequences for the security of the whole region".
Russia fought a brief war with Georgia in August 2008 and then backed the independence of the two breakaway regions, stationing troops there.
For its part, Germany is attempting to play the role of mediator, banking on its strong diplomatic ties with Russia. Chancellor Angela Merkel, who speaks Russian, and Putin spoke to each other twice over the weekend.
German Foreign Minister Frank-Walter Steinmeier said that diplomacy was "not a weakness" but acknowledged there was no solution in sight after a "long and difficult" conversation with his Russian counterpart, Sergei Lavrov.
Germany is also keen to protect its economic interests in Russia -- a concern shared by Britain and France.
- Has the West already written off Crimea?
Not officially. All players are standing up for the "territorial integrity and unity of Ukraine". However, according to Andy Kuchins, Russia/Eurasia program director with think-tank CSIS, "if we are not willing to risk a military conflict then we would have to ... accept" the reality of Moscow's territorial claim over the majority Russian-speaking region which is home to Russia's Black Sea Fleet.
- Does the West have the means to protect other former Soviet republics which want to move closer to the European Union, such as Georgia ad Moldova?
According to one senior EU official, this is one of Brussels' priorities because "the EU can't afford to lose Georgia and Moldova", the only two former Soviet republics that still wish to sign up to an association agreement with the EU, following the decision of Ukraine and Armenia to back away. "We need to fast-track the process for them to sign up," the official said.
The United States has also been sending out signals of support to Moldova, which is locked in a dispute with Russia over Transdniestr, a majority Russian-speaking region that announced its secession from Moldova in 1990 and where Moscow has stationed troops. In a meeting with Moldovan Prime Minister Iurie Leanca, US Secretary of State John Kerry said Moscow "has put pressure on Moldova".
BEFORE YOU GO
03/25/2014 6:18 PM EDT
Senate To Vote Thursday On Ukraine Aid
Senate Majority Leader Harry Reid (D-Nev.) set up a final vote Thursday on a bill that would provide Ukraine with up to $1 billion in loan guarantees and impose targeted sanctions against Russian officials.
Reid made the announcement Tuesday after dropping a controversial provision from the Senate bill that would have boosted the U.S. quota at the International Monetary Fund. Republicans in both chambers of Congress opposed the IMF reforms, which were specifically requested by the White House to increase Ukraine's borrowing capabilities at the institution.
Senate Minority Leader Mitch McConnell (R-Ky.) said earlier Tuesday that Republicans would still want to vote on a number of amendments, but the IMF language was the major sticking point. Without it, the Ukraine aid package is expected to pass both the Senate and the House without much drama or delay.
--Sabrina Siddiqui
03/25/2014 5:24 PM EDT
Moldovan Separatists Claim They Downed Ukrainian Drone
Authorities in a pro-Russian separatist region of Moldova claim to have brought down a Ukrainian drone on a reconnaissance mission.

NovostiPMR, the news agency of Trans-Dniester says Tuesday that the region's intelligence agency downed the drone on March 23.

The region broke away from Moldova in 1990. There are 1,500 Russian troops stationed there guarding hundreds of tons of weapons.

According to the agency, the drone was "launched from Ukrainian territory by people close to the Ukrainian Security Service and the Defense Ministry."

It said the plane illegally crossed into Trans-Dniester violating its air space. It added that the authorities in the region reserved the right to use "all available methods" to defend the territory which is not internationally recognized but is supported by Russia.
03/25/2014 4:18 PM EDT
Russians Take Over Last Ukrainian Ship In Crimea
Russian forces appeared to be attempting to take over the last military ship controlled by Ukraine in Crimea on Tuesday after a Ukrainian military spokesman reported explosions in its vicinity and helicopters approaching the vessel.

Russian forces armed with stun grenades and automatic weapons have seized ships and military bases from the last remaining Ukrainian troops in Crimea in recent days as part of Russia's largely bloodless annexation of the region.

Kiev, which calls Russia's annexation of Crimea illegal, ordered its remaining forces to withdraw for their own safety on Monday, but not all troops have yet left the Black Sea peninsula and some ships have been prevented from leaving.

"Around 1900 (1600 GMT) there were several explosions from the direction of the minesweeper Cherkasy in the Donuzlav bay," Ukrainian military spokesman Vladislav Seleznyov told Reuters.

"Some Mi-35 helicopter gunships were observed hovering in the area. Speedboats and a tug were seen approaching Cherkasy," he said.

On Monday Cherkasy attempted without success to break to the open sea through a blockade at the entrance to the inlet. The Russian navy blocked the route earlier this month by scuttling three hulks in the channel.

Seleznyov said he was unable to confirm whether Russian troops had boarded the ship.
03/25/2014 3:02 PM EDT
Russian Military Holds Exercises In Moldova
Russia's military staged training exercises on Tuesday in Transdniestria, a breakaway sliver of Moldova that is a focus of tension following Russia's annexation of Ukraine's Crimea region.

NATO's top military commander said on Sunday he was worried that Russia might have its eye on Transdniestria, a largely Russian-speaking region that borders western Ukraine, after seizing Crimea, which has a narrow ethnic Russian majority.

The Interfax news agency quoted a spokesman for Russia's Western Military District, Colonel Oleg Kochetkov, as saying that Russian forces stationed in Transdniestria had "conducted an anti-terrorism drill and practiced operations to rebuff an attack on their military base".

Transdniestria, with a population of half a million, has run its own affairs since 1992 after fighting a brief war against the Moldovan government over fears that it might join Romania after the collapse of the Soviet Union, and Russia has a permanent garrison of peacekeepers there.
03/25/2014 1:02 PM EDT
No, Ukraine Will Not Have Nukes: Ministry Of Foreign Affairs
Ukraine's Ministry of Foreign Affairs confirmed, in something of a Shermanesque statement, that the country will not develop nuclear weapons, one day after the Russian Minister of Foreign Affairs seized on a proposal by some Ukrainian MPs to leave the Nuclear Nonproliferation Treaty.
"Ukraine has not planned, is not planning and is not going to plan to resume its nuclear status," a spokesman for the agency said at a press briefing.
Earlier this month, several opposition MPs introduced a draft bill to withdraw Ukraine from the NPT. Russia's Foreign Ministry seized on it, saying "the dysfunctional new Kiev authorities may pose a threat to the security of Ukrainian nuclear sites under the current Ukrainian circumstances," in a statement.
"We do not trust attempts of the Ukrainian delegate to dissociate from this position. The NPT is in serious danger."
Ukraine, which suddenly became the world's third-largest nuclear state after the collapse of the Soviet Union, gave its nuclear arsenal back to Russia for disposal under the 1994 Budapest Memorandum in exchange for security assurances from Russia that it would respect Ukraine's territorial integrity.
--Luke Johnson
03/25/2014 12:34 PM EDT
Five Scenarios For Russia's Relations With China, Moldova And Nato
The world's industrialized nations have turned their back on Russia, following Moscow's annexation of Crimea.
Though the G8 cannot expel its members, countries can refuse a member permission to attend, effectively expelling them.
With jitters in the east of Europe about further Russian incursion, and wariness in China, the state of world diplomacy could look very different by 2015.
HuffPost UK has asked military and international relations experts on five scenarios that could occur now Russia looks increasingly isolated, and as the West looks impotent.
Read here what they predict.
03/25/2014 12:27 PM EDT
Senate Democrats Consider Dropping IMF Provision
Senate Majority Leader Harry Reid (D-Nev.) may drop a controversial reform to the U.S. share at the International Monetary Fund from the Ukraine aid package, according to Senate leadership aides.
The provision was requested by President Barack Obama and Ukrainian leaders, but faces widespread opposition from Republicans. Senate Majority Leader Mitch McConnell (R-Ky.) said Tuesday that his members would not support the aid bill unless the IMF language was dropped.
A Senate leadership aide said removing the provision is now "under consideration in order to move the bill." In exchange, Republicans would drop their demand to delay a Treasury Department rule that cracks down on the political activities of nonprofits, known as 501(c)(4)s.
The House of Representatives passed its own legislation providing aid to Ukraine earlier this month without the IMF reforms, and planned to move on a sanctions bill that also left the issue untouched. House Speaker John Boehner (R-Ohio) has said boosting U.S. funds at the IMF has "nothing to do with Ukraine," and his aides indicated they would not have enough votes to move the Senate bill through the lower chamber in its current form.
The Obama administration and Senate Democrats have been making the case that ratifying the IMF reforms, which were agreed upon in 2010, is critical to Ukraine's borrowing capabilities in a time of crisis. Still, some House Democrats acknowledged that the White House was complicating the process by renewing debate over a contentious issue when providing aid expeditiously is of the utmost importance.
--Sabrina Siddiqui
03/25/2014 11:46 AM EDT
Obama Dismisses Romney's 'Geopolitical Foe' Comment
President Barack Obama dismissed the notion that former GOP presidential candidate Mitt Romney was correct in saying that Russia was "our number one geopolitical foe" Tuesday, in a response to a question from Jonathan Karl of ABC News. He said that Russia was merely a "regional power" that was acting out of "weakness."
"Russia is a regional power that is threatening some of its immediate neighbors, not out of strength, but out of weakness. Ukraine has been a country in which Russia had enormous influence for decades, since the breakup of the Soviet Union, and we have considerable influence on our neighbors," he said. "We generally don't need to invade them in order to have a strong cooperative relationship with them."
--Luke Johnson
03/25/2014 11:26 AM EDT
Obama Says He's Not Interested In Putin's Motivation
At a press conference in Europe, U.S. President Barack Obama sidestepped a question on whether he "misread" Russian President Vladimir Putin, saying he wasn't so interested in his motivations.
"With respect to President Putin's motivation, I think there has been a lot of speculation. I am less interested in motivation and more interested in the facts and the principles that not only the United States but the entire international community are looking to uphold."
He added that the United States is "concerned" about further encroachment by Russia into Ukraine.
--Luke Johnson
03/25/2014 10:39 AM EDT
Will Russia Annex Moldova Next?