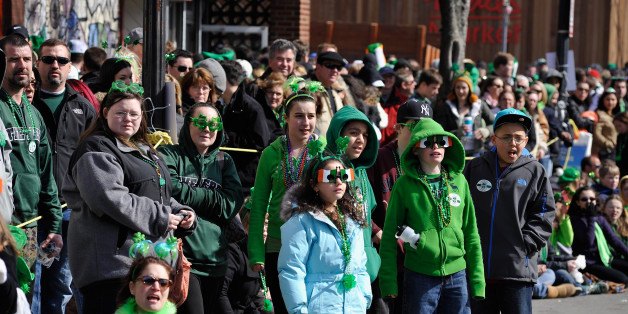 A Boston-based Catholic school earlier this week refused to participate in the city's St. Patrick's Day parade, upon learning that a gay rights group would be marching. Now that the group has been barred from the event, the school says it will partake in the festivities on March 16.
The Immaculate Heart of Mary School said Monday that although the school has participated in the parade for more than 20 years, administrators decided to pull out after it was announced that a gay activist group would also be marching. "In the footsteps of Saint Patrick, IHM does not condone and will not appear to condone the homosexual lifestyle," said a press release from the school.
The school was referring to a group called MassEquality, which wanted to march in the city's upcoming parade, with gay military veterans participating under the group's name. Sponsored by the South Boston Allied War Veterans Council, the parade has long barred gay groups from participating, per The Associated Press. Parade organizers said they would allow MassEquality to use its official banner, but did not want the group to use flags or shirts identifying themselves as members of the lesbian, gay, bisexual and transgender community, according to the AP.
On Tuesday, parade organizers said they had cut off negotiations with the group because event leaders could not find evidence that MassEquality was a veterans organization, according to Boston.com. Immaculate Heart administrators then said the school will participate in the parade.
"We won! … At a school assembly this morning the students applauded the news that this group would not be marching and that IHM Band and Float was back in the parade!" said a Tuesday press release from the school.
On Wednesday, the principal of the school spoke to the Worcester Telegram & Gazette about his initial decision.
"We don't want to seem like we're condoning and promoting a homosexual lifestyle, gay marriage or open promiscuity between males or females," Brother Dalton told the outlet. "We didn't want to participate in that in any way."
Mass Equality released the following statement that same day:
"Throughout this process, we have heard from many people with diverse perspectives about this Parade. Stories from those who marched openly and at great personal risk in this very Parade decades ago touched us deeply. LGBT people should never have to silence who they are to be safe, to be equal, or to celebrate other parts of their identities."
BEFORE YOU GO
PHOTO GALLERY
The Least-LGBT Friendly Colleges: The Princeton Review 2013-14