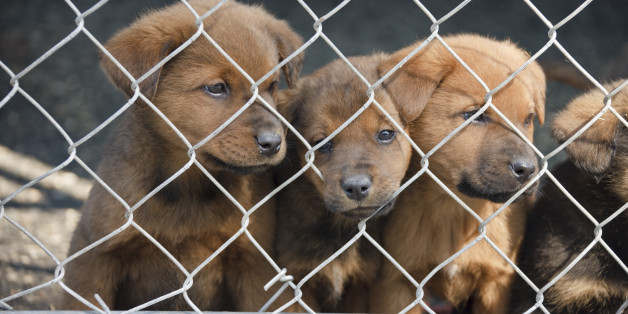 In what is being heralded as a big win for animal shelters, Chicago is now the latest city to ban pet stores from selling pets from so-called "puppy mills."
The puppy mill ordinance was approved in a 49-1 City Council vote on Wednesday morning, City Clerk Susana Mendoza, the proposal's lead proponent, announced.
Our anti- #puppymill ord just passed #chicouncil! It's a brighter day for the pets we love here in #Chicago. http://t.co/zGjur6nSCW

— Chicago City Clerk (@chicityclerk) March 5, 2014
The ordinance, introduced last month, specifically bans the sale of pet store animals from for-profit breeders, allowing only for dogs, cats and rabbits sourced from city or county shelters, humane societies or animal rescue facilities. It will go into effect one year from Wednesday's passage.
The measure received approval from the City Council's License Committee on Tuesday, advancing the measure to Wednesday's full council vote.
At Tuesday's hearing, Cari Meyers of Chicago's Puppy Mill Project derided puppy mills as "puppy hell" due to their typically deplorable living conditions, the Chicago Tribune reports.
Not everyone was on board. Though some of the city's pet store owners considered the measure well-intended, one told Fox Chicago he fears it will put him out of business -- at least within city limits. Lane Boron, the owner of Pocket Puppies, said it will push his business and others like it into the suburbs rather than actually impact puppy mill operators.
But Mendoza did not flinch in light of the criticisms, urging impacted pet stores to transition to "a more humane [business] model," the Chicago Sun-Times reports.
"If you don't want to change your way of doing business, I will not lose a wink of sleep knowing that we've put a bad business out of business in this city," Mendoza said Tuesday, according to the paper.
Ahead of Wednesday's vote, 35 dogs were taken from Puppy Parlor, a store in suburban Lisle that had been described by the Humane Society of the United States as one of the nation's 100 worst puppy mills, according to Patch.
San Diego, Phoenix and Los Angeles are among about 40 other major North American cities that already moved to ban the sale of commercially-bred pets.
BEFORE YOU GO
PHOTO GALLERY
Animals Who Need Hugs