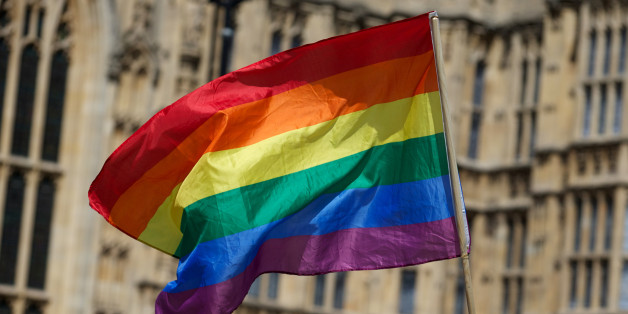 Another poll confirms a continuing rise in support for same sex marriage, a trend that may be taking opponents by surprise. The vast majority of incumbents will likely win reelection despite a record anti-incumbent mood. And not so fast, online video. Traditional television isn't dead yet. This is HuffPollster for Wednesday, March 5, 2014.
POST-ABC FINDS 'RECORD HIGH' SUPPORT FOR GAY MARRIAGE - Peyton M. Craighill and Scott Clement: "Half of all Americans believe that gay men and lesbians have a constitutional right to marry, according to a new Washington Post-ABC News poll in which a large majority also said businesses should not be able to deny serving gays for religious reasons....Beyond the constitutional questions, a record-high 59 percent say they support same-sex marriage, while 34 percent are opposed, the widest margin tracked in Post-ABC polling. The poll was conducted in the wake of a series of rulings by federal judges that state bans on same-sex marriage and prohibitions on recognizing marriages performed elsewhere are unconstitutional." [WaPost]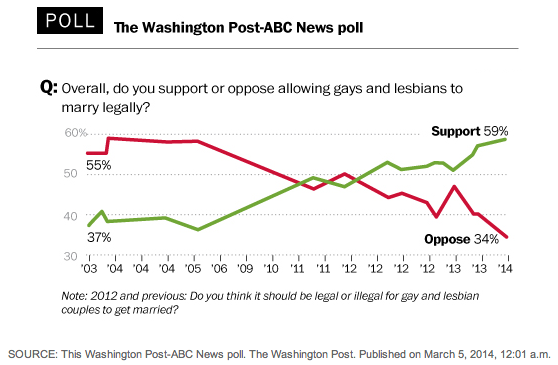 Gay marriage opponents assume they're in the majority - Christopher Ingraham: "According to a new survey by the Public Religion Research Institute, only 41 percent of Americans oppose allowing same-sex couples to marry. But that same 41 percent has a highly skewed perception of where the rest of the country stands: nearly two-thirds of same-sex marriage opponents erroneously think most Americans agree with them. And only two in 10 same-sex marriage opponents realize that the majority of Americans support marriage equality. What's going on here? For starters, Americans overall don't realize how widespread support for same-sex marriage has grown [which] is at least partly a function of how rapidly public opinion has shifted...But same-sex marriage opponents are unique in the depth of their misunderstanding of the issue. Because they skew strongly conservative and deeply religious, this may be a manifestation of what Andrew Sullivan has termed 'epistemic closure.' Think of this as an extreme case of confirmation bias -- that tendency of people to filter out information that challenges their beliefs and preconceived notions." [WaPost's Plum Line]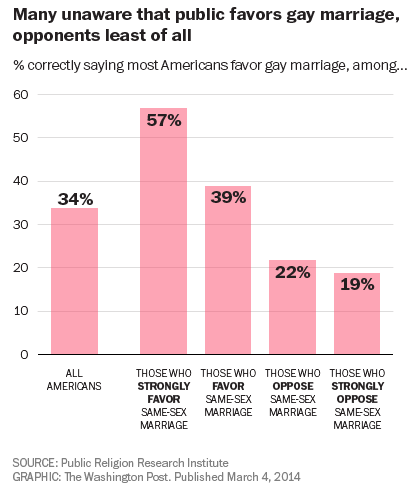 'ANTI-INCUMBENT' QUESTIONS HAVE LITTLE BEARING ON HOUSE RESULTS - Drew DeSilver: "The public's anti-incumbent mood is at record levels, but the vast majority of senators and representatives running for re-election appear to have little to worry about. What's up with that?...Historically, Americans have been more favorably disposed toward their own representatives than to Congress as a whole (a phenomenon dubbed 'Fenno's Paradox,' after eminent political scientist Richard Fenno). That disjuncture that has been reflected in typically high re-election rates.…It's also worth noting that opinion surveys on incumbent sentiment haven't always been the best predictors of big electoral swings. In fact, two of the biggest anti-incumbent waves in recent history weren't preceded by surges in anti-incumbent sentiment." [Pew Research]
TRADITIONAL TV AUDIENCE STILL BIGGER THAN ONLINE - Sam Thielman on a new data from Nielsen: "The study, conducted with ad targeting firm Simulmedia, contains plenty of insights, but among the most striking is the size of either industry. Nielsen rarely pulls back the veil on exactly how big the TV and video worlds are (they do mint the currency in the former, after all), but here it is in black and white: There are 283 million television viewers monthly (the population of the United States is 313 million), each watching an average of 146 hours of TV. Compare that with 155 million online video viewers averaging just shy of six hours monthly on mobile and almost six and a half hours over the Web. So while TV's audience is still almost twice that of digital video, the amount of money in digital isn't even 5 percent of the mammoth $74 billion chunk of change in television. What's going to bring about growth in the former, said Amit Seth, Nielsen's evp, global media products, is equivalency." [AdWeek via @alexlundry]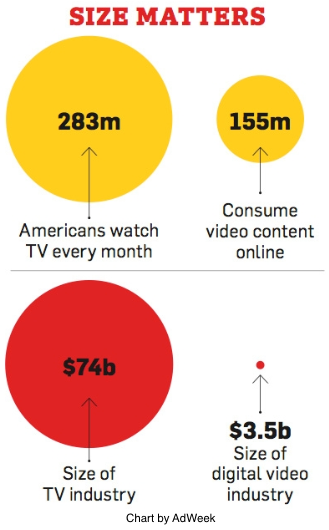 HUFFPOLLSTER VIA EMAIL! - You can receive this daily update every weekday via email! Just enter your email address in the box on the upper right corner of this page, and click "sign up." That's all there is to it (and you can unsubscribe anytime).
WEDNESDAY'S 'OUTLIERS' - Links to the best of news at the intersection of polling, politics and political data:
-John Kerry's favorable rating has increased 7 percentage points, to 55 percent, since September. [Gallup]
-Warner (D) leads Gillespie (R) by almost 30 points in Virginia's Senate race. [Roanoke College]
-Jim Hobart (R) notes that the Roanoke ballot test was asked late in the survey. [@thejimhobart]
-Voters who trust neither party on at least some major issues lean toward voting Republican in 2014. [WaPost]
-Just 20 percent of Americans think the U.S. has a responsibility to get involved in the civil unrest in Ukraine. [YouGov]
-A majority of Russians surveyed in February did not want their country to intervene in Ukraine. [Chicago Council on Global Affairs]
-David Hill (R) argues we should pay attention to to polls of Russian public opinion. [The Hill]
-Mark Mellman (D) finds lessons for both parties in recent polls showing support for raising the minimum wage. [The Hill]
-Jonathan Bernstein wonders why pollsters didn't ask about Mitt Romney's age the way they did about John McCain's in 2008 and Hillary Clinton's now. [Bloomberg]
-Jon Ward reports on how Democrats won control of the Virginia state Senate by outfitting two campaigns with "first-rate data analytics models." [HuffPost]
-The weekly audience for all forms is online radio is now 36 percent of Americans age 12 or older. [Edison Research]
-An advertising reporter says Buzzfeed's quizzes could be used to collect readers' data. [NPR]