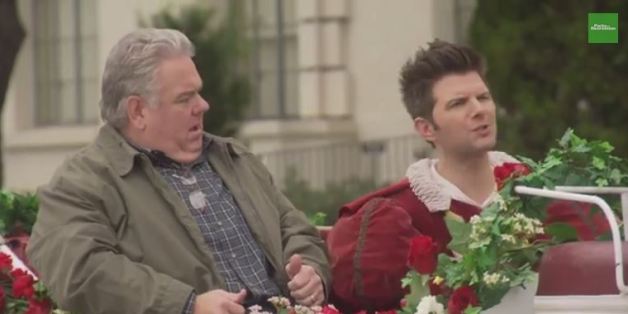 Can't get enough of Pawnee? Neither can we. Luckily, NBC gave fans a little extra taste of "Parks and Recreation" after the final credits rolled on the Feb.27 episode.
The studio has released two deleted scenes from the latest episode via Twitter. In the first, tweeted with the message "Larry and Ben are official best fr—oh wait, that was supposed to be a secret," the two pals continue the day of fun that Ben had intended to share with Leslie, only to discover that they quite enjoy one another's company. Ben, however, doesn't want anyone to realize that he has become friends with the office dud, and Jerry (true to form) isn't even upset.
The second bit was filmed during Leslie's radio show scene and it features a couple of call-ins that didn't make the final cut. One caller is pleasuring himself while on the phone because he is "sexually aroused by lying to people on the radio."
This isn't the first time "Parks and Recreation" has treated fans to extra footage. The studio recently released a scene of Leslie gifting Ben with a replica of the Iron Throne from "Game of Thrones," much to her husband's nerdy, overzealous delight.
Is this practice of airing deleted scenes after each new episode going to become commonplace? We hope so, because we'll take as much Pawnee as we can get.
BEFORE YOU GO
PHOTO GALLERY
'Parks and Recreation'