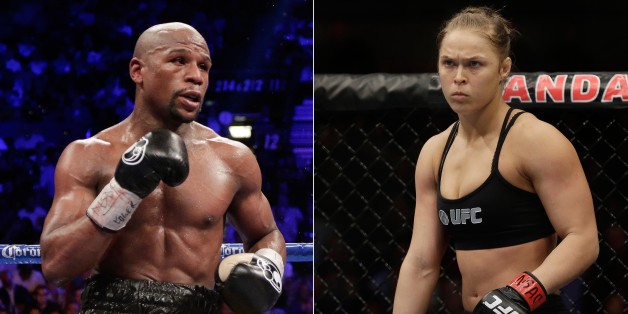 Think a promoter wouldn't drool at the prospect of a battle of the sexes?
Unbeaten UFC women's bantamweight champ Ronda Rousey has a strategy ready if she ever finds herself in the octagon with unbeaten boxer Floyd Mayweather Jr. Asked if she could handle Mayweather in an MMA match during a recent interview with Power 106 FM, Rousey explained her plan of attack.
While Rousey (9-0) is the face of female combat sports, light middleweight champ Mayweather (45-0 ) -- who has a 17-pound, 6-inch reach advantage over the 135-pound Rousey -- is considered by many to be the best boxer, pound for pound.
In explaining what her strategy would be (watch below), Rousey said she would stay low to the ground to approach Mayweather. "I would just bear crawl over there, too low for him to hit me, and tackle him down," she said.
But she tells it a lot more colorfully.
Listen to the complete interview. (Her bold talk comes right at the beginning.)
(Hat tip, USA Today via Fox Sports)