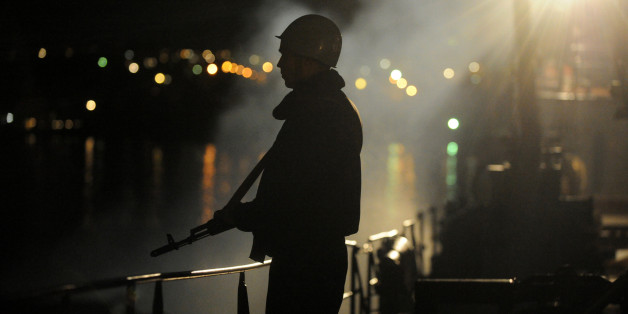 Russia is unlikely to mount a full-scale invasion of Ukraine, analysts believe, because it has probably already achieved its objective by seizing control of the Crimea region and it would not relish a fight with the Ukrainian army.
Experts from respected London-based think-tanks told AFP that while the Russian army enjoys massive numerical superiority, it is unlikely it will choose to engage in full-scale combat with the Ukrainian military.
"The Kremlin is not going to fight a large-scale war against Ukraine," said Igor Sutyagin, a Russia specialist at the Royal United Services Institute (RUSI).
"If Russia decides to attack, it's a disaster. They don't want that and they don't need that."
Matthew Clements, from Jane's Intelligence Review, said Ukraine could not be compared to another former Soviet state, Georgia, which Russian forces swiftly invaded in 2008.
"It is a much larger military that Ukraine is wielding here. And it would certainly create a military challenge for Russia to face that," Clements said.
"There are weaknesses in the Russian military which could be exposed if it comes to the point where they launch a full military offensive against Ukraine."
Ben Barry, a former British army general who is now a specialist at the International Institute of Strategic Studies (IISS), also doubts Russia will escalate its action to the wider Ukraine, even if its forces have "enormous superiority on paper".
- Soviet-era hardware -
With a force of 845,000 men, Russia has six times more soldiers than Ukraine, twice as many reservists and tanks, and six times as many fighter jets, according to the IISS's figures.
But RUSI's Sutyagin believes the 130,000-strong Ukrainian army retains credibility despite its overwhelmingly Soviet-era military hardware.
"They do not have air defences, for example. They have only 36 batteries, which is not enough to defend all the territory, and they are obsolete," he said.
Additionally, around half of the Ukrainian army are conscripts, due to delays in the process of professionalising the military.
Many military planes are out of operation because they lack spare parts, and many naval vessels -- including a submarine -- cannot leave port because of the same problem.
Discipline is not an issue for the Russian army, but the risk of further defections within the Ukrainian military cannot be ruled out, Barry said, pointing to the case of the head of the Ukrainian navy who has now pledged allegiance to the Crimea region.
"On the other hand, if the Ukrainians felt that they were victims of a Russian aggression that might greatly improve the morale and the popular support for the Ukrainian forces."
- Mission accomplished in Crimea -
Sutyagin said Moscow has succeeded in creating "instability" in some parts of eastern Ukraine, which is the most pro-Russian part of the country.
Looking further ahead, the experts saw little Russian appetite for an invasion of Ukraine as a whole.
"In clear military terms, a large-scale invasion is plausible, but the really important question is 'has the Kremlin achieved its objectives'?" said Barry, of the IISS.
President Vladimir Putin said Tuesday it was not necessary to send Russian troops into Ukraine "at the moment". In reality, despite Putin's denials, Russian forces are already in Crimea, probably supported by elite Spetsnaz special forces, according to Barry.
"The occupation of Crimea is a powerful negotiating tool with Ukraine. If Crimea wanted to effectively become a protectorate of Russia and to declare autonomy, to break away from Kiev, then Crimea is in a very good position to achieve that," he said.
Sutyagin believes Russia is content to hold on to the Crimea region until it can hold a referendum on its future, currently set for March 30. "They want to establish a semi-independent country which might be a puppet state controlled from Moscow, and to influence Kiev's policies.
"That's all. They are not going to fight."