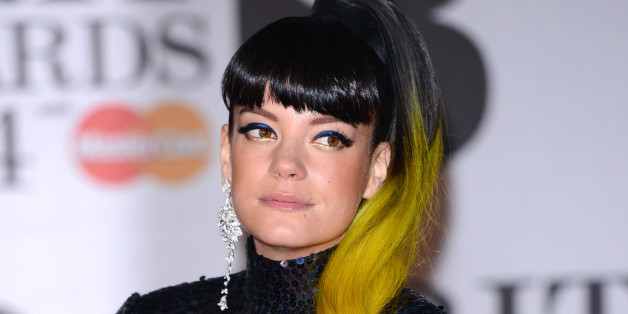 "Feminism," apparently is not Lily Allen's thing.
Just months after the release of her track "Hard Out Here" -- which was dubbed a "feminist anthem," but was blasted for its visuals featuring racist imagery -- the British pop star sat down with men's lifestyle magazine ShortList and discussed how the music industry treats female artists. Although she acknowledged some dissimilarities between male and female performers, she seemed to contradict herself by saying everyone is equal.
"Feminism. I hate that word because it shouldn't even be a thing any more," she said. "We're all equal, everyone is equal so why is there even a conversation about feminism? What's the man version of feminism? There isn't even a word for it. There's no reason for it. Menanism. Male-ism. It doesn't exist."
Prior to that, she said women, not men, are the real problem.
I don't think men are the enemy, I think women are the enemy. I know that when I'm sitting in a restaurant and a really beautiful woman walks in, who's skinny, I instinctively think, 'Oh she's really skinny and beautiful and I'm really fat and ugly.' Every man I speak to always says they find that kind of woman gross, and they prefer a bit more meat on their ladies. So it's more of a competitive thing. It's weird. It's just really unhealthy and we're our own worst enemy. We should stop being so horrible to each other.
The quotes drew ire from bloggers like Holy Moly's Becca Day-Preston, who noted the major inconsistencies in Allen's interview and said the singer's comments were both offensive and wrong.
"Essentially, it's amazing to have people within the entertainment industry level criticism at the inequalities they've faced (and Lily has talked in the past about having faced these) but when someone in the industry stands up and says (in a men's magazine, no less) that these inequalities don't even exist?" she wrote. "That's just really f**king crap."
The singer eventually responded to the critics on Twitter.
Oh my, internet you really can be a real CUNT sometimes. #HappyInternationalWomen'sDay. 🌺🌺🌸🌼

— Lily Allen (@lilyallen) March 7, 2014
— Lily Allen (@lilyallen) March 7, 2014
(Hat tip, Jezebel)