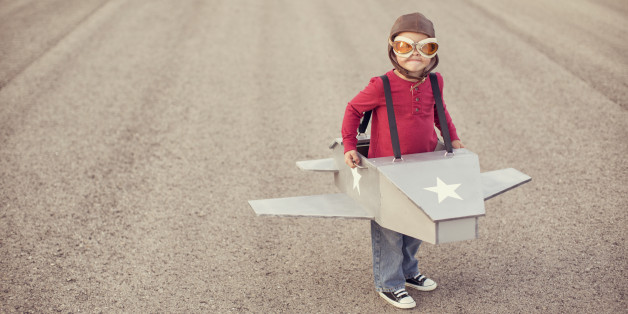 Solo travel isn't for everyone, this we know. Some people prefer a hand to squeeze during takeoff, someone to chit chat with when the movie selection isn't cutting it and another person to help maneuver a foreign airport. If none of those things sound all that necessary to you, take a peek below at all of the reasons flying alone actually is the best.
You walked in the wrong direction to get to your gate or got on the wrong tram? NO WORRIES. You (and the guy who saw you casually turn around while you were "checking your phone") are the only ones who will know.
Bought that bag of gummy candy to eat while you land and take off, but managed to eat the whole thing while waiting at the gate to board? No big deal, no one knows your original intention.**

**This is a real suggestion. It's like chewing gum during landing and takeoff but more delicious. The chewing motion helps regulate the pressure in your ears during the altitude change.
At the airport, sidle up to the bar and order yourself a drink. If you're of legal age, make it an adult beverage and don't be afraid to have a little conversation with some strangers. Most humans on this planet aren't the most comfortable going to a bar alone for fear of what it might look like to others, or how awkward it is to have no one to talk to, or whatever reason that makes you browse a bookstore instead of go into happy hour before your friends get there. BUT, if there is ever a time or place to sit at a bar solo and have it feel completely and utterly acceptable, it would be at an airport. So get a cocktail, have a seat and get to chattin'.
If the airport bar isn't your scene, why not pamper yourself a bit? A manicure? A massage? Perhaps both? That's a viable option in many airports (56, to be exact.) Companies like Xpress Spa make in-airport pampering just the easiest little thing. There are convenient kiosks, actual stores and if you're an extra good traveler, they will even come right to you at your gate. No one needs to keep an eye on your bag and you don't need to worry about missing your flight. They will get those knots out of your shoulder and keep you company before boarding.
You are the person who can go anywhere on the plane. A cute little old lady is seated next to you but her even more adorable husband is four rows up? No problem, switcheroo. Better yet, a family of four strolls down the aisle and you've got the window seat while dad is across the aisle or a row behind? You'll gladly raise your hand for a seat swap in that situation. Not that two toddlers who don't belong to you on a flight are not the most adorable...
So. Many. Movies. How often do you go to/watch movies alone? It is, arguably, one of the most compromise-inducing situations, where ultimately someone has to budge. Not when you're 30,000 feet in the air. You want to watch seven episode of "How I Met Your Mother," followed by "The Great Gatsby" and then a delectable audio/visual dessert that is One Direction's "This Is Us?" Go right ahead. No compromise. No laughs, scoffs or criticism. Just you, your headphones and five boy banders from the UK.
Prime opportunity for selfies. Completely socially acceptable to take airplane selfies when you're flying solo. Cold, hard facts right there.
No one to entertain. No chit chat to keep up with. No one to interrupt your airplane slumber... need we say more?
An overbooked flight doesn't really make sense (seriously, how DO they DO that?) but that doesn't stop it from happening. We've all heard the announcement and if you've ever heard the perks, (can we say free night in a hotel and a voucher towards your next ticket?) being the passenger who gets bumped can seem like a pretty great idea. When you're traveling solo you don't have as many schedules to coordinate or personalities to appease. It's just you. If your schedule is flexible enough to get bumped to a later flight, the perks just might be worth it.
Plus, you have a way better chance of meeting Prince Charming, getting bumped up to that extra first-class seat that was just sitting there empty or snagging an extra snack.**
**Yea, these last three are completely made up.