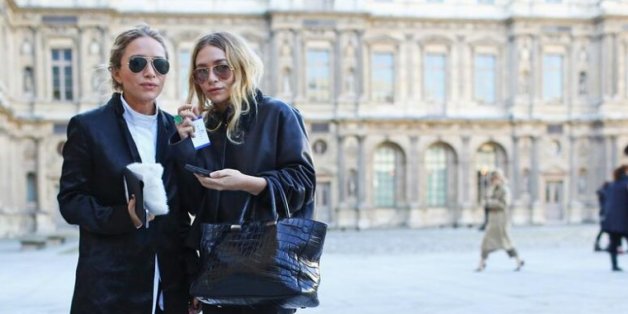 Paris Fashion Week ended a few days ago and that marks THE END of fashion month. After New York, London and Milan, we ended on a good note to say the least. We learned that PFW trumps all, and we wouldn't mind dropping everything to live there... maybe just for the chocolate croissants.
This week on Twitter we found some MK & A street style snaps (a big congratulations to Mary-Kate on her engagement) and a photo of Chuck Bass looking like Hunter S. Thompson in a paperboy hat and brown leather jacket. Cue the Gossip Girl nostalgia.
In other news, we were ECSTATIC to learn that Lena Dunham will host Saturday Night Live tonight -- if you haven't checked out her promos, get on that ASAP. Scroll down for any Twitter updates you might have missed this week.
🎶🎵 everything is awesome!!🎵🎶 Lego bags @chanel resee. cc @ireneneuwirth @philiplord pic.twitter.com/oShHIusLMn

— Eva Chen (@evachen212) March 5, 2014
Look who @streetpeeper captured in the last day of Paris Fashion Week...http://t.co/7Y43EONnQc pic.twitter.com/6r1VLZM2uW

— Vogue Magazine (@voguemagazine) March 7, 2014
The goth 12 year old in me wants to be a twitter bitch about something but the celluloid dreamer says alright alright alright!

— Lena Dunham (@lenadunham) March 3, 2014
Lena Dunham makes her SNL debut tonight. The promo had us in hysterics: http://t.co/iUpGuhCPkg

— Stylist Magazine (@StylistMagazine) March 8, 2014
Legendary style icon Coco Chanel left us with an endless arsenal of fashion & life tips. Happy Friday! pic.twitter.com/P5Fnhum1ZU

— Avenue K (@ShopAvenueK) March 7, 2014
Lorde's haunting new track will blow. your. mind. http://t.co/fZCNw7sd5m pic.twitter.com/s1gi28rP5i

— Seventeen Magazine (@seventeenmag) March 7, 2014
If #CocoRocha (@cocorocha) ever made an album, this'd be the cover... http://t.co/yA5sATMcny | pic.twitter.com/L2qg0PV2Ud

— Wilhelmina Models (@Wilhelmina) March 7, 2014
D-R-A-M-A! Jared Leto's calling out Jennifer Lawrence on her "clumsiness" -- here's why: http://t.co/JanyOYD21S pic.twitter.com/kcbzHsQyju

— Fashionista.com (@Fashionista_com) March 7, 2014
In case you're wondering what Ed Westwick has been up too, he's been using Brando + Hunter Thompson as style icons. pic.twitter.com/xyE2dZnBvr

— Stella Bugbee (@stellabugbee) March 7, 2014
"@MirandaKerr is the new face of Wonder Bra? Can someone else be the face of something?" --- @HuffPostBeauty

— Real Girl Project (@RealGirlProject) March 6, 2014
All the ravers and club kids of the fall runways: http://t.co/ZFwJZGLAhc pic.twitter.com/4S77vIN4yz

— The Cut (@TheCut) March 7, 2014
See the #streetstyles from #FashionWeek. #pfw #mfw http://t.co/eoHOtleDae   pic.twitter.com/fUQWZwVk2U

— Nordstrom (@Nordstrom) March 7, 2014
@HuffPostStyle I don't remember taking these photos. Lol

— christine teigen (@chrissyteigen) March 6, 2014
How to braid hair for fairy tale-esque looks: http://t.co/5xl3fYxH4N pic.twitter.com/FmoenTmNAM

— StyleList (@StyleList) March 7, 2014
dad fixes, turns my jacket into a pullover sweater pic.twitter.com/yu7Uln5ngs

— lauren yap (@itslaurenyap) March 7, 2014
BEFORE YOU GO
PHOTO GALLERY
New York Fashion Week: Day 4 Street Style