Kevin Grow may have thought he got a once in a lifetime opportunity when he signed with the Philadelphia 76ers. But then the Harlem Globetrotters called.
The 18-year-old, who has Down syndrome, was tapped by the stunt-performers to play with the team for a special game this month. Grow took the court with the Harlem Globetrotters in Philadelphia Sunday as the team's "3-point specialist."
"He watches the Globetrotters religiously," his father, Earl Grow, told ABC News.
The Bensalem High School senior helped lead the team to victory by sinking one of his famous three-pointers, a shot that inspired his nickname "KG3." Grow managed to make the shot from a NBA range and scored nine other points, bringing his game total to 12 points, ABC 6 reports.
The newest member of the @Globies Kevin Grow poses with the team after tonight's big win! #KG3 #harlemglobetrotters pic.twitter.com/wN27CHOooa

— Wells Fargo Center (@WellsFargoCtr) March 10, 2014
Several Bensalem students were in the audience Sunday to cheer on their classmate. Signs showing support for Grow could also been seen throughout the stands, according to NBC Philadelphia.
The 18-year-old, who served as the team manager for his school basketball team, rose to prominence last month after he sunk four three-pointers during a varsity game at the end of the season. After clips from the game were widely shared online, Grow got a special offer: a two-day contract with the Philadelphia 76ers.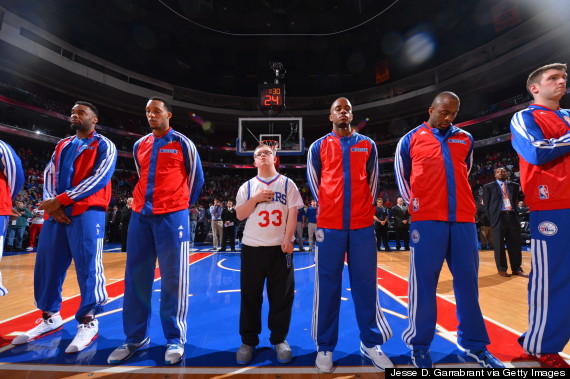 Kevin Grow, playing with the Philadelphia 76ers, listens to the national anthem during a game against the Cleveland Cavaliers at the Wells Fargo Center on Feb. 18 in Philadelphia.
(Photo by Jesse D. Garrabrant/NBAE via Getty Images)
The teen accepted and became ceremonial member of the team. He received his own jersey and practiced with the Sixers. It wasn't long before the Harlem Globetrotters took notice and decided to sweeten the deal by inviting Grow to play during a quarter of a game on March 9.
As the team notes on its website, Grow is the only player aside from former center Wilt Chamberlain to suit up with the both the Sixers and the Globetrotters.
BEFORE YOU GO
PHOTO GALLERY
People Receive The Best News Ever