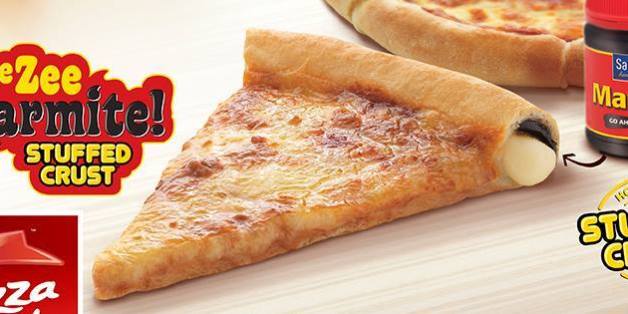 From its Crazy Cheesy Crust Pizza to its Crown Crusts, Pizza Hut has wowed us with all sorts of insane/awesome inventions. We're not sure how we feel, however, about Pizza Hut New Zealand's latest item: Chee-Zee Marmite Stuffed Crust Pizza.
A layer of Marmite -- that yeast-based spread that everyone outside of the UK and New Zealand loves to hate -- is spread inside the crust, along with a layer of melted mozzarella cheese. A large pizza will be sold for $8 NZ (or about $6.76 US).
We appreciate that certain food combinations can be acquired tastes (up until recently famed Cronut™™™ creator Dominique Ansel had never tried Oreos and milk, a classic duo in the eyes of Americans), but we're not sure we'll ever come around to marmite and pizza. (Or Marmite and anything?)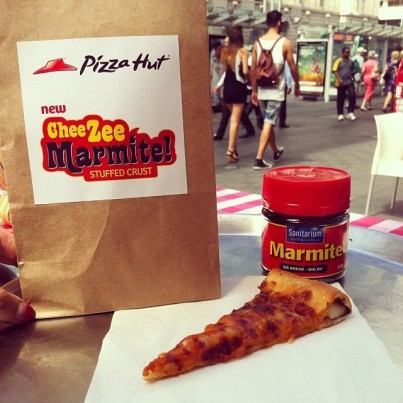 Pizza Hut, the highest grossing pizza chain in America, is constantly reinventing its pizza and thinking of new ways to market itself. In an effort to court millennials, the chain announced it would start selling pizza by the slice in certain locations and over Valentine's Day even set up an online dating profile on OK Cupid. Its XBox app, whereby customers can order pizzas via their XBox 360 Pizza Hut app, sold $1 million worth of pizza in its first four months. And the Internet can't get enough of Pizza Hut's new interactive touchscreen table menu.
While this new Chee-Zee Marmite Stuffed Crust Pizza may win over the hearts and mouths of Kiwis, we're not so sure it'll translate outside of New Zealand.
Want to read more from HuffPost Taste? Follow us on Twitter, Facebook, Pinterest and Tumblr.
BEFORE YOU GO
PHOTO GALLERY
Mind-Blowing Fast Food Inventions