WASHINGTON -– Senators planning to stay up all night Monday talking about climate change say the marathon session is the "opening salvo" in a renewed effort to pass legislation curbing greenhouse gas emissions.
"We have a simple message for all Americans: We're not going to rest until Congress acts on the most pressing issue of our time," said Sen. Brian Schatz, a freshman Democrat from Hawaii, who organized the all-nighter on the Senate floor.
The overnight session is meant to "make sure everybody across the nation knows we're taking this seriously, and that there is a stirring in the Senate on this issue," said Schatz. Participants said they will make the point that climate change is "real, caused by humans, happening now, and it is solvable," he said. "We are the cause, but we are also the solution."
Thirty senators have signed up to participate in the event, including Sens. Jack Reed (D-R.I.) and Chris Coons (D-Del.), who joined the lineup since it was announced on Friday.
Sen. Sheldon Whitehouse (D-R.I.) said that while the senators don't plan to introduce legislation during the session, they hope the event will show strong support for action among Senate Democrats. "Tonight's event is a signal of a much larger confidence we have about our ability to get a significant climate bill passed in Congress," said Whitehouse. "We have a very strong chance to win, but we have to fight."
The push is notable. It was the Democratic-led Senate that killed climate legislation in 2010, after the House had passed a major cap-and-trade bill the previous year. Senate Majority Leader Harry Reid (D-Nev.) said at the time that the measure didn't have enough votes to move forward. Reid has been taking a more aggressive stance on climate recently, telling reporters last week that climate change "is the worst problem facing the world today."
More than half of the Senate Democratic caucus is participating in the overnight session. On a call with reporters Monday afternoon, Whitehouse was asked about the 25 Democrats who aren't -- including a number of from fossil-fuel producing states and those facing tough reelection bids in 2014. "There are no climate deniers in the Senate Democratic caucus. There may be a divergence of views on what the appropriate solutions are, but no one is out there pretending this isn't real or it's a hoax," said Whitehouse. "This is just an opening salvo, and as we bring more and more voices into this, we'll be in a better position to not only have a unanimous caucus on this problem, but have a unanimous caucus on the solution."
While no Republicans are participating, a number have signaled support for addressing climate change, Whitehouse said. He named no names, but alluded to past cap-and-trade measures from Sens. John McCain (R-Ariz.) and Lindsey Graham (R-S.C.), a cap-and-dividend bill that Sen. Susan Collins (R-Maine) coauthored in 2010, and support for a carbon tax that Sen. Bob Corker (R-Tenn.) has previously shown.
"Actually, there's a pretty good group to work with," said Whitehouse. He said an influx of corporate money into electoral campaigns following the Supreme Court's 2010 Citizens United decision has driven Republicans "back to their holes" on climate change. He said he hopes the all-night session will help "spotlight" the issue "so they're obliged to work with us."
"We hope by staying up all night to discuss climate change, tomorrow will signal a new dawn for climate action in Congress," said Sen. Ed Markey (D-Mass.).
Follow the event tonight at our liveblog or via Twitter at #Up4Climate.

BEFORE YOU GO
03/11/2014 9:02 AM EDT
That's All, Folks
Sen. Bill Nelson (D-Fla.) gave the morning's final speech, wrapping up shortly before 9 a.m. on Tuesday.
"We are in severe jeopardy," said Nelson, whose state faces arguably the greatest risks from sea level rise and storm surge. "It is time for us to get out of our lethargy and recognize the problem that is happening in front of our very eyes."
He was the last of the speakers at the all-night session, which started almost 15 hours earlier.
--Kate Sheppard
03/11/2014 8:50 AM EDT
Maria Cantwell: Let's Talk About Ocean Acidification
Washington State Democratic Sen. Maria Cantwell took to the floor just after 8 a.m. Tuesday morning to talk about the need to address another climate impact: ocean acidification.
Ocean acidification happens when the seas absorb carbon dioxide from the atmosphere, causing a chemical reaction that makes the water become more acidic. According to the National Oceanic and Atmospheric Administration, that can "affect the ability of some organisms to produce and maintain their shells."
Cantwell cited research finding that the oceans could be 150 percent more acidic by the end of century due to rising emissions.
The commercial fishing industry in Washington, said Cantwell, relies on keeping the oceans habitable for Alaskan crabs, scallops, and oysters. Commercial fishing provides 42,000 jobs in the state and $1.7 billion in economic activity. Ocean acidification is causing the shells of a tiny organism know as the pteropod, which young Pacific salmon rely on as source of calcium, to deteriorate.
"Ocean acidification is an economic issue," said Cantwell. "Ocean acidification kills jobs."
--Kate Sheppard
03/11/2014 4:53 AM EDT
Brian Schatz: 'Right Now What We Need Is A Republican Dance Partner'
Several Democrats have mentioned their desire to engage more Republicans on climate change.
"Right now what we need is a Republican dance partner," said Sen. Brian Schatz (D-Hawaii), the organizer of the climate overnight.
"Responsible people who support the Republican party need to bring their party back from the brink," said Sen. Sheldon Whitehouse (D-R.I.).
Whitehouse noted earlier on Monday that a number of Republican senators have, at some point, endorsed some kind of policy to address emissions--Republicans like John McCain (R-Ariz.), Lindsey Graham (R-S.C.), Susan Collins (R-Maine) and Bob Corker (R-Tenn.).
But as Energy & Environment reporter Nick Juliano tweeted on Monday evening, at least one of those potentially sympathetic Republicans said she didn't get an invite to tonight's climate party:
.@SenatorCollins, who introduced a climate-y bill this afternoon, says she wasn't asked to participate in 'partisan exercise' talkathon

— nickjuliano (@nickjuliano) 5 years ago
Collins' bill would cut carbon dioxide emissions and air pollution around the world by spurring the adoption of clean cookstoves. Collins also co-sponsored a cap-and-dividend bill with Democrat Maria Cantwell of Washington in 2010.
If the Senate did try to pass a climate bill anytime soon, Democrats would need the votes of Collins and other Republicans with climate-action inclinations.
--Kate Sheppard
03/11/2014 3:55 AM EDT
If The Planet Were A Freezing Puppy, Cory Booker Would Save It
In his speech on the Senate floor in the wee hours of Tuesday morning, New Jersey Democrat Cory Booker spent a lot of time talking about Hurricane Sandy, which ravaged his state in 2012.
"The stories that came from Hurricane Sandy rip your gut out," said Booker. He read from a story about a Toms River, N.J., resident who lost his home and nearly his life in the storm.
While it "would be irresponsible" to say that any individual extreme weather event happened because of climate change, Booker said, "we know for a fact that, should more hurricanes hit, with rising sea levels, they're going to do more and more damage."
"When confronted with a problem, deal with it," said Booker, who has a storied record of intervening in crises. "Devise a workable solution and get it done."
"We have an obligation to act," he said. "That's who we are as Americans."
--Kate Sheppard
03/11/2014 3:28 AM EDT
We Come Bearing Charts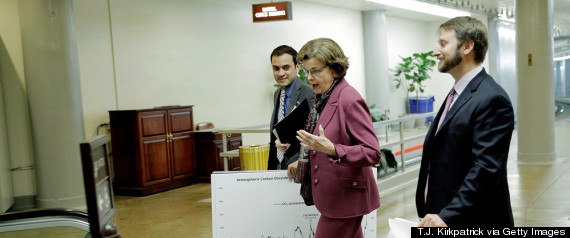 Sen. Dianne Feinstein (D-Calif.) carries several large signs as she heads to the Senate floor on Monday night. (Photo by T.J. Kirkpatrick/Getty Images)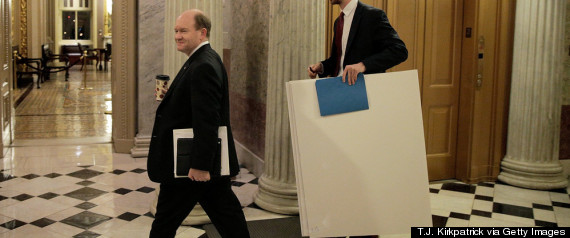 Sen. Chris Coons (D-Del.) walks with a staff member Monday night. Twenty-eight Democrats and two Independents are planning to talk about climate change on the Senate floor until early on March 11. (Photo by T.J. Kirkpatrick/Getty Images)
03/11/2014 3:06 AM EDT
Like College Students, The Senate Seems To Like Pulling All-Nighters
According to Senate records, tonight's talkathon is the 36th all-nighter in Senate history.
The Senate considers it an all-night session if it continues past 4 a.m.
A Congressional Research Service report from last year notes that "all-night sessions are very unusual."
However, the Senate has pulled all-nighters more often than usual in the last year. There were three all-night sessions in 2013: A debate over a budget resolution last March, Ted Cruz's symbolic filibuster last September and a post-cloture debate on executive and judicial nominations last December.
The longest overnight session was a debate on civil rights amendments in 1960 that lasted 125 hours -- from 12 p.m. on Monday, Feb. 29 to 5:31 p.m. on Saturday, March 5.
--Kate Sheppard
03/11/2014 1:50 AM EDT
Would Alison Lundergan Grimes Join In Tonight? Who Knows!
Louisville, Ky.'s NPR affiliate, WFPL, asked Democratic Senate candidate Alison Lundergan Grimes what she thinks about tonight's climate talkathon. Does she support it, and would she participate if she were in the Senate?
The response they got from spokeswoman Charly Norton didn't exactly answer the question.
Alison understands the reality of climate change. But what she doesn't support is unnecessary regulation that hurts Kentuckians. She will push for a broader approach that invests federal money in clean coal technology and in helping the industry become more competitive in a changing marketplace. While it is important to protect the environment, it is just as important to make sure the men and women of Kentucky are able to provide for their families. As Senator, Alison will work to protect the jobs of hardworking Kentuckians in any solution to the changing climate.
So …. no real answer as to whether Grimes would join her 30 fellow Democrats in taking part tonight. WFPL reporter Phillip M. Bailey notes that this is exactly the same response--word for word--that the station got last September when they asked the Grimes campaign about her position on climate change and fossil fuels.
Grimes is looking to unseat Senate Minority Leader Mitch McConnell, who wants to block the Obama administration's new rules limiting emissions from coal-fired power plants. He blasted the senators taking part in tonight's event as "anti-coal liberals."
But Grimes, too, has distanced herself from the Obama administration on environmental issues, stating that "Coal keeps the lights on here in Kentucky … I disagree with the president and his philosophies in terms of coal."
--Kate Sheppard
03/11/2014 12:50 AM EDT
Kaine Is The First To Mention Keystone XL
As The Guardian points out, Tim Kaine (D-Va.) was the first senator to bring up the proposed Keystone XL pipeline—a major climate-related issue that the Obama administration is expected to make a decision on in the coming months.
"It would be very good thing if the president right now rejected the use of tar sands oil in the Keystone pipeline," Kaine said. "Why would we embrace tar sands oil and backslide to a dirtier tomorrow?"
Environmental advocates have been urging the administration to reject the 1,660-mile pipeline, which would carry oil from Canada's tar sands to refineries in Texas, on the basis that it would increase the country's contribution to climate change. Oil from the tar sands produces more emissions over its lifecycle than conventional oil.
In his big climate speech last summer, President Obama said that the pipeline should be approved only if it "does not significantly exacerbate the problem of carbon pollution." The State Department's final environmental impact analysis did not find that the pipeline would, but another study recently questioned that analysis.
"I don't want to bury my head in the tar sands," said Kaine.
--Kate Sheppard
03/11/2014 12:10 AM EDT
Senators Reading Dr. Seuss Is A Thing That Has Now Happened More Than Once
Taking a page from the book of Ted Cruz, Sen. Ed Markey (D-Mass.) read a passage from Dr. Seuss on the Senate floor Monday night.
Markey's Seuss text of choice was The Lorax, the 1971 environmental fable on the hazards of letting corporations run amok. "Unless someone like you cares a whole awful lot," read Markey, "nothing is going to get better. It's not."
Cruz's choice for his Senate filibuster over Obamacare last September was another Seuss favorite, Green Eggs And Ham.
Markey himself was in a rhyming mode Monday night as he spoke about global emissions. "So much of that CO2 is red, white and blue," said the senator who coauthored the climate bill that passed the House in 2009.
Markey joined the Senate last July, after winning the bid to fill John Kerry's seat when he became Secretary of State. He said that he believes climate will be an important political issue in the coming year. "We're going to have a big fight about this in 2014," said Markey. "People are going to know that we stood up and had a debate about this most important issue."
CSPAN has the video of Markey reading The Lorax.
--Kate Sheppard
03/10/2014 11:17 PM EDT
About Those Democrats Who Aren't Here ...
Roll Call's Meredith Shiner reports on the vulnerable Democrats—most of them from fossil-fuel producing states—who are missing from tonight's climate confab.
According to a list of participating senators provided by Democrats, the most politically vulnerable among them will not speak: Mark Begich of Alaska, Kay Hagan of North Carolina, Mary L. Landrieu of Louisiana, Mark Pryor of Arkansas and John Walsh of Montana. Interviews with several moderate Democrats on Monday suggested they were not invited to contribute to the event, while GOP campaigns hit Senate Democrats generally for staging such a stand on the floor.

"I will not be [speaking]," Landrieu, chairwoman of the Senate Energy Committee, said before votes Monday. "I will not be, but I think what they're doing is helpful."
Other coal-friendly Democrats, including West Virginia's Joe Manchin, are also not participating. Manchin's campaign for Senate in 2010 featured an advertisement where he shot a copy of the proposed climate legislation. He indicated to Roll Call that he was not invited to participate tonight, but "would be happy to participate if they would want me to."
--Kate Sheppard