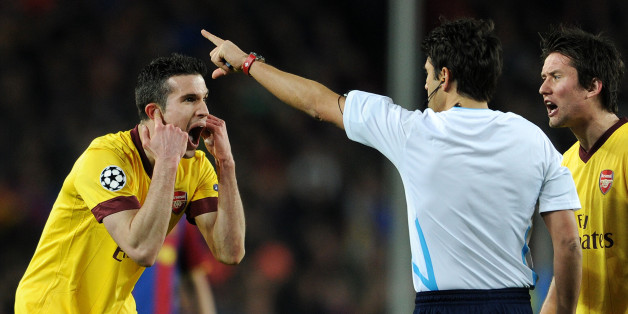 Arsene Wenger has goals both modest and ambitious for his team's visit to Allianz Arena.
In the latter category, the Arsenal manager believes his team can overturn an 0-2 deficit against Bayern Munich in the second leg of their Round of 16 matchup. In the former, Wenger would just like Arsenal to finish the match with as many players on the field as it has at the start.
"We have played a few times with 10 men in Europe and always under very special circumstances," Wenger said at a press conference in Munich on Monday. "In the Champions League final [against Barcelona in 2006], now against Bayern. When we played at Barcelona when we were in a position to qualify, it was a second yellow card and the only time I have seen that since I [have] watched European football, when [Robin] van Persie was sent off [for kicking the ball away], so I hope tomorrow we get a fair chance to play with 11 against 11 until the end."
Over the years, Arsenal has picked up a handful of noteworthy red cards during Champions League matches, including one for goalkeeper Wojciech Szczesny in the first leg against Bayern Munich. While few red cards are accepted willingly, the ones issued to Arsenal players in European competition have tended to be particularly controversial.
Here is a look back at those "very special circumstances" that Wenger was lamenting:
PHOTO GALLERY
Arsenal's Champions League Red Card