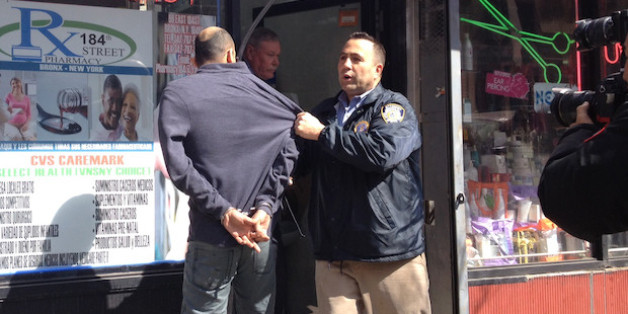 By Gustavo Solis and Mathew Katz
FORDHAM — Police arrested the owners of a Bronx pharmacy, along with its head pharmacist, for bilking million of dollars from the government by filing phony claims for HIV medications and paying HIV-positive patients not to get their medicine — all to fund lavish lifestyles, authorities said.
Authorities raided 184th Street Pharmacy at 69 E. 184th St. on Tuesday morning, arresting owners Ahmed Hamed, 37, and Tarek Elsayed, 48, along with supervising pharmacist Mohammed Hassan Ahmed, 36, officials said. 
In the operation, the pharmacy paid HIV patients hundreds of dollars in cash on at least eight occasions between October 2013 and February 2014 in exchange for forgoing their medication, according to the state attorney general's office.
They then billed Medicare and Medicaid plans for reimbursements for prescriptions that were never actually filled, the AG's office said.
The men also paid Medicaid recipients cash for referring new patients, authorities said. 
"These defendants abused the fundamental trust between health care providers and patients by putting their own greed above the health needs of the patients," Attorney General Eric Schneiderman said in a statement. "This blatant theft and abuse of one of our state's most important health care programs is reprehensible and will not be tolerated."
The amount of the reimbursements varied, but were larger than the amount paid to the patients. It was not clear how long the alleged scheme was going on for, but officials believe it was longer than the year-long investigation.
The extent of the health effects suffered by the patients was also not clear.
According to the attorney general's office, the men made almost $10 million in government reimbursements in less than a year and laundered the cash through 10 different businesses.
Officials charged Hamed and Elsayed with three counts of grand larceny, one count of fraud and one count of money laundering. Ahmed was charged with three counts of grand larceny and one count of fraud, officials said. If convicted, the men each face up to seven years in prison.
Officials said the men lived a luxurious life off of the loot — they seized six cars at their homes, including a Maserati, a Mercedes, two BMWs and two Acuras. Authorities also froze the suspects' bank accounts.
Several of the pharmacy's clients hoped to get HIV medication on Tuesday, but could not because of the arrests.