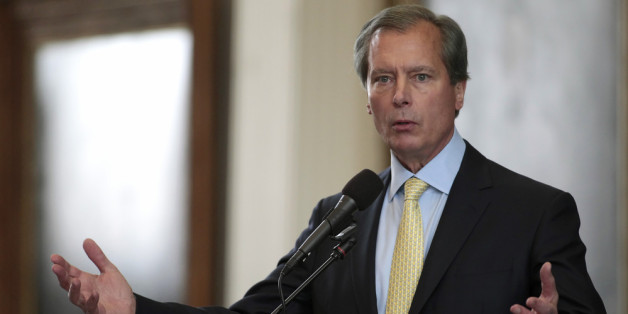 Despite mounting pressure to throw in the towel, Lt. Gov. David Dewhurst skipped a Wednesday deadline to take his name off the May 27 primary runoff ballot, instead committing himself to an expensive come-from-behind battle against challenger Dan Patrick for the next 12 weeks.
The 11-year-incumbent trailed Patrick, a Houston senator and radio talk show host, by 13 points in last Tuesday's GOP election in a four-way race that included Agriculture Commission Todd Staples and Land Commissioner Jerry Patterson.
"He is in it to win it," Dewhurst spokesman Travis Considine said. "He is going to do what he does best -- crisscrossing the state, talking to voters. A lot of money will be spent on TV."
Austin political consultant and lobbyist Bill Miller voiced popular skepticism that Dewhurst can map a path to victory after his poor showing in the March 4 primary. "He is in a deep, deep hole," Miller said. "The race is virtually impossible for him to win." Political experts say it will be hard for Dewhurst, as an incumbent, to win back followers who threw their support behind other candidates on March 4.
Tuesday, a development in a North Texas state Senate runoff race highlighted Dewhurst's predicament. U.S. Sen. Ted Cruz, who beat Dewhurst in 2012 by appealing to tea party voters, announced he would attend a rally in support of Konni Burton, a Colleyville tea party activist.
Cruz's involvement in that race -- and possibly others -- could generate widespread turnout among the Republican Party's tea party wing, a development that could undermine Dewhurst's comeback strategy.
Considine, however, said Dewhurst would be taking to the airwaves "sooner rather than later. We are developing our message going forward, including the messaging in our ads."
He also said Dewhurst had been "receiving calls from grass-roots supporters and donors saying they are going to stand behind him and continue their support."
One of those allies, Texas Association of Business president Bill Hammond, said his group would stick by its endorsement of Dewhurst. "Dewhurst is the real deal for us. He's been very good for business," said Hammond. "We are going to be messaging that to our members. Our support for him is without question."
Meanwhile, Patterson and Staples have not formally endorsed Dewhurst, though both were sharply critical of Patrick, accusing him of "hypocrisy" over the issue of border security.
Patterson hired a private investigator who found several men who said they worked for Patrick's restaurant while in the country illegally in the mid-1980s.
On election night, Patterson said he didn't know whether he would endorse Dewhurst but would support him since he would never vote for a "liar" -- a reference to Patrick.
Staples could not be reached for comment Wednesday, but he told the Texas Tribune on Tuesday he had no plans to endorse in the race.
Tuesday, Patterson also told the Tribune he believed Dewhurst could win if voters learn more about Patrick. "The key is to define Dan Patrick for what he is," Patterson said. "I suspect they (voters) are going to get to know him better."
Dewhurst, a wealthy Houston businessman, has the ability to self-fund his campaign, but he already has lent it $2 million. He also outspent Patrick in the first go-round, spending some $3.4 million to Patrick's $1.2 million.
Patrick's political consultant, Allen Blakemore, tweeted Wednesday that an "independent poll" conducted in the race showed Patrick with a strong lead.
Conducted by Austin-based pollster Mike Baselice for Conservative Republicans of Texas -- another Blakemore client -- the survey taken on March 4 and 5 concluded that "among the two-thirds of the voters who indicate they are certain to vote in the May runoff, Patrick leads 59 percent to 32 percent," according to memo written by Baselice.
The pollster also found that "among the four out of five respondents who participated in the recent primary election, Patrick leads Dewhurst 60 perecent to 31 percent."
The runoff winner will face state Sen. Leticia Van de Putte, D-San Antonio, in November. ___
BEFORE YOU GO
PHOTO GALLERY
United States Governors