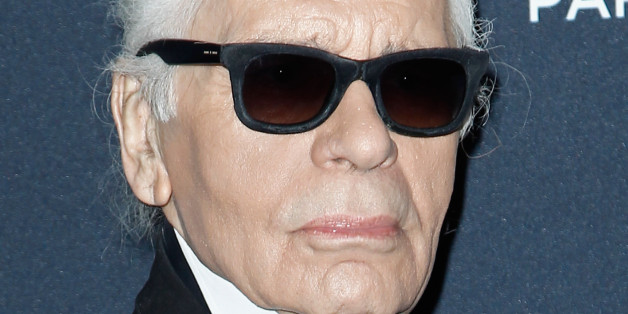 Karl Lagerfeld is dropping some serious gems again, but we aren't talking about Chanel "CC" logo necklaces. It's some serious beauty knowledge, ladies.
In an interview with Elle magazine, the witty and wise designer dishes on his new eponymous fragrance line, his obsession with cleanliness and the ideal of perfection. However, the secret behind Lagerfeld's secret baby soft skin is what piqued our interest. His hilarious yet honest response:
My program is very simple. The day I was 24 years old, which was one hundred years ago, my mother said to me: From now on, it is downhill. So you better wash your face every night before you go to bed. Never. Go. To. Bed. Without. Washing. Your. Face [Slaps table after each word]. And then put some cream on it. It will last longer.
We definitely co-sign Lagerfeld's youthful skin tip, plus his stance on why smoking isn't good for you either. But we're pretty sure that moisturizer he's slathering on at nighttime is formulated with fancy ingredients we just can't afford. And Lagerfeld probably has a standing appointment at French spas like this that help to keep us guessing at his age.
Whelp. You can't go wrong with some water and Cetaphil facial cleanser ...
For more Karl Lagerfeld beauty secrets, head over to Elle.com to read the entire interview.
BEFORE YOU GO
PHOTO GALLERY
Karl's Crazy Comments