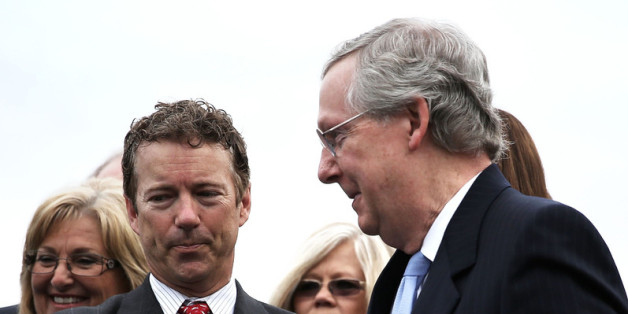 Senate Minority Leader Mitch McConnell (R-Ky.) seems to have mixed feelings when it comes to how he approaches state-based legislation.
In an interview with Kentucky Public Radio last week, McConnell told a reporter that he "doesn't take positions on state legislation." The senator was responding to questions about state Senate Bill 5, which concerns drug overdoses and substance abuse issues.
When asked if he supports #SB5, @McConnellPress says he doesn't take positions on state legislation. #kyga14 #kysen

— Jonathan Meador (@JonathanMeador) March 7, 2014
However, McConnell told Roll Call on Wednesday that he supports state legislation that would allow Sen. Rand Paul (R-Ky.) to run simultaneously for both president and the Senate in 2016.
"I favor that," McConnell told Roll Call. "Did they approve that? Yeah. I think that's a good idea."
The proposed legislation, which has passed out of a committee in the Republican-controlled state Senate but is unlikely to be passed by the Democratic-led state House, would change the state's election law so a candidate could run in multiple federal races on the same electoral ballot.
Paul's endorsement was a valuable coup for McConnell as he works to thwart a tea party-backed primary challenger, Republican businessman Matt Bevin.
The McConnell campaign did not respond to a request for comment.
BEFORE YOU GO
PHOTO GALLERY
Senate Seats Up For Grabs In 2014