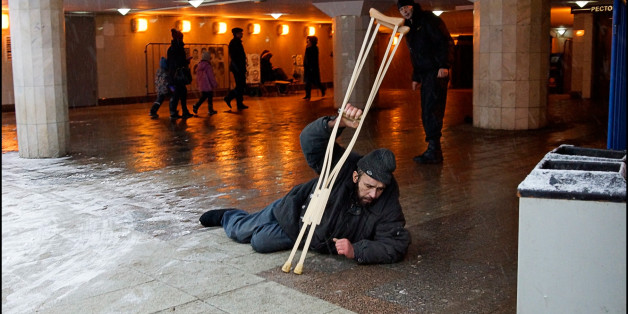 By agreeing to host the Winter Paralympics this year, Russia appeared to have made some vast strides in its treatment of people with disabilities. But, advocates say that the discrimination of old is still rampant.
Back in 1980, when Moscow hosted the Summer Olympic Games, the Soviet Union refused to also host the Paralympics, saying, "There are no invalids in the USSR!" according to Disability Studies Quarterly. Typically, the two events come as a package deal, but that year athletes with physical disabilities competed in Arnhem, Netherlands.
So, when Russia agreed to have the 2014 Paralympics take place on its soil, activists and people with disabilities alike were hopeful that the public display would help pave the way for a more inclusive society. That, advocates on the ground say, still hasn't happened.
According to official statistics, at least 13 million Russian people, or 9 percent of the population, have disabilities.
But, despite the $51 billion Russia invested in the games, Sochi is seriously lacking when it comes to accessibility.
In a 118-page investigative report released last September, Human Rights Watch detailed the constant challenges people with disabilities face in six cities across Russia in trying to complete everyday tasks.
The report noted that people who rely on wheelchairs or crutches to get around are often confined to their homes because they don't have access to elevators and public ramps are typically too steep, too narrow or altogether nonexistent.
It's those restrictions that keep Maria, a 26-year-old Sochi resident, secluded in her apartment for months at a time, she told the human rights organization. Because her building doesn't have an elevator or ramp, she can't get out. Within her home, she said she crawls from room to room because the corridors aren't wide enough to fit her wheelchair.
At the very least, activists and Paralympic athletes expected Sochi to be equipped to handle the needs of the more than 500 athletes with disabilities who came to compete.
Instead, when visitors started to arrive, they were met with obstacles that hindered their mobility.
Door frames at some of the Paralympic competition venues are raised from the floor, which impedes wheelchair access, the Associated Press reported. Wheelchair ramps aren't easily visible and wheelchair lifts at some of the hotels only work on one side of the stairs.
Competitors have also found issues with their transportation options.
Buses have been made accessible for people who use wheelchairs, but drivers frequently don't know how to use the lifts. One athlete said he either has to show bus drivers how to use them or wait for the next bus, according to the AP.
Arly Velasquez, an Alpine ski Paralympian for Mexico, told the news outlet that once he strapped himself into his wheelchair and climbed up the stairs in his hotel using his hands, because the wheelchair lift wasn't working.
To Russia's credit, though, the country has committed to trying to improve the quality of life for people with disabilities.
In 2011, the country launched a multibillion-dollar Accessible Environment Program to give technical and financial resources to improve services and infrastructure for people with disabilities. However, the program excluded people with intellectual and mental disabilities, and it supports only those regions that can devote their own funds, according to Human Rights Watch.
That same year, Russia also launched the "Decade of Disabled People" initiative. The program, in leading up to the Parlympics, aimed to address discrimination issues and encourage people to be more accepting of people with disabilities. However, after the press release was distributed, there was no mention of it in the Russian papers, Sports Illustrated reported.
Many news outlets, in fact, appear to be perpetuating a dismissive approach to people with disabilities.
Leading up to the games, there were few television spots devoted to the competition and news channels' websites provided little, if any, information about the schedule of events. The only visible advertisements for the Paralympics around Sochi were a few signs with the phrase "Paralympic Games" printed on a blue background along the highways, according to Sports Illustrated.
Media personalities have also unabashedly aired their discriminatory views.
During the Olympic opening ceremony last month, Russian TV commentators took a jab at injured U.S. skier Heidi Kloster. As she made her way through the parade on crutches, one announcer said, "And here comes a future contestant of the Paralympics," according to Sports Illustrated.
A major hindrance in changing the attitudes of the Russian public is an ingrained idea that having a disability is an impossible-to-overlook defect.
"A disability is often perceived as a disease," Hugh Williamson, executive director of Human Rights Watch Europe and Central Asia, told Deutsche Welle. "It's particularly hard for people with a mental disability."
The stigma is so pervasive, that even during the opening ceremony for the Paralympics -- an event that is meant to foster more inclusion -- people with disabilities were marginalized.
People in wheelchairs took part in a dance routine and a performer with a physical disability sang, but when dancers came together to form an image of the Russian flag, not one person with a visible disability was in sight, Andrea Mazzarino, a Human Rights Watch researcher, wrote on the organization's website. The same was true when dancers came strung ice cubes and formed the word "together."
Some that these conflicting messages are perhaps the games' biggest failure thus far.
"There is no debating that Sochi Games organizers have failed to do what their counterparts in London did in 2012," Anastassia Smorodinskaya wrote in Sports Illustrated, "treat the Olympics and Paralympics as of equal importance to the host city."

BEFORE YOU GO
PHOTO GALLERY
U.S. Veterans Competing In Sochi Paralympics