Three people have been identified as victims of the powerful explosion that toppled two 5-story buildings on Wednesday in New York City's East Harlem neighborhood, killing at least seven people and injuring dozens more.
Griselde Camacho, Carmen Tanco and Rosaura Hernández were killed by the fire and collapse on Park Avenue after 9 a.m. following complaints of a gas leak, authorities said. All three were residents of the apartment complex above the Spanish Christian Church at 1644 Park Ave., one of the two buildings turned into rubble.
Camacho, 44, was a public safety officer at Hunter College and the mother of a teenage son. She was at home with her mother in their apartment when the building collapsed, the New York Daily News reports. Her mother was hospitalized and is in stable but serious condition as of Wednesday night, according to PIX11.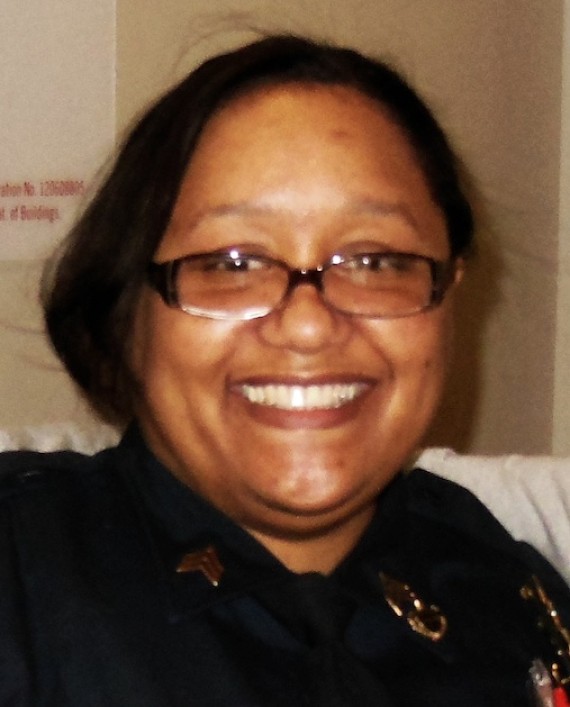 Griselde Camacho.
Jennifer Raab, the president of Hunter College, released a statement confirming the news. "Griselde was a well-liked member of our community, a respected officer and a welcoming presence," Raab said in a statement. "Our deepest sympathies go out to her family, and we are committed to doing everything we can to support them in their time of great emotional need."
Camacho had worked at Hunter College since 2008, and was recognized as Peace Officer Of The Year in 2010, according to a union newsletter. She previously worked as a police officer in Puerto Rico.
Tanco, 67, was the second victim identified by authorities. According to The Wall Street Journal, she had the day off from her job as a dental hygienist.
Her family began a frantic search for her when they realized she hadn't come to work Wednesday, according to News 12, where one of Tanco's cousins is a cameraman.
Tanco, who immigrated to New York from Puerto Rico as a teenager, was always a "helpful person," her cousin Diana Cortez told The New York Times. "If you were sick, she came to your home and cooked for you and cleaned for you." A director at Tanco's church described her to Newsday as a "bundle of energy."
Rosaura Hernández, 21, also perished in the disaster, the Associated Press reported, citing police.
Authorities have not yet identified three other victims -- two men and a woman -- whose bodies were pulled from the rubble overnight. Fire officials said early Thursday that a seventh person had been killed, though no other details were yet available.
BEFORE YOU GO
03/14/2014 1:22 PM EDT
De Blasio Details Housing Plan
Mayor de Blasio said displaced families will be provided temporary housing for up to three months, thanks to Real Estate Board of New York.
03/14/2014 1:18 PM EDT
FDNY Commissioner: Final Debris Being Removed
FDNY Commissioner Sal Cassano said the department is in the process of removing the site's final debris. The debris will be taken to Randall's Island for further forensic investigation.
03/14/2014 12:21 PM EDT
Bill Clinton Visits Explosion Site
Former President Bill Clinton is currently visiting the site of the #EastHarlemExplosion

— Dan Linden (@DanLinden) March 14, 2014
03/13/2014 7:31 PM EDT
The Tragic Irony Behind The Building Collapse
HuffPost's Saki Knafo reports:
A gas leak almost certainly played a role in the explosion that flattened two buildings in Manhattan on Wednesday morning, killing at least seven people and injuring many more. City officials have said as much, and local residents told reporters on Wednesday that they smelled gas in the area well before the blast.

So it's darkly ironic that the owner of one of the buildings destroyed in the explosion had actually shunned gas for an alternative energy source -- a far less combustible one.

Biodiesel, a unconventional fuel celebrated by proponents as a safer and cleaner alternative to both gas and petroleum, is made of recycled vegetable oil, animal fats, and other substances. Only about 1,000 buildings in New York City have heating systems that run solely on biodiesel, but the building at 1646 Park Avenue was one of them.
03/13/2014 7:13 PM EDT
Officials: Eighth Person Found Dead
BREAKING: NYC officials say 8th body pulled from rubble at Harlem explosion site.

— The Associated Press (@AP) 4 years ago
03/13/2014 1:11 PM EDT
De Blasio: No Indication Of Asbestos In The Air
De Blasio said that there was no reason to suspect there might be asbestos in the air after a deadly explosion that rocked Harlem on Wednesday. In a presser on Thursday, he stressed that people in the area should still close their windows and avoid any visible smoke outside.
03/13/2014 1:08 PM EDT
NYPD Commish: We Will Look At Surveillance Footage
NYPD Commissioner Bill Bratton said that there were a number of surveillance cameras that captured images of the explosion and they will be a part of the ongoing investigation.