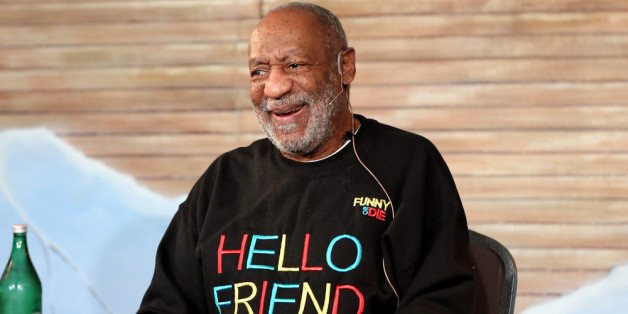 "You better live this!"
Bill Cosby's spontaneous reply to an audience member was simply a throwaway joke about marriage (it received big laughs), but it neatly summed up the spirit of Cosby's intimate, masterful show at the South By Southwest festival in Austin on Monday. Clearly, the veteran comedian had "lived this," and his family-friendly storytelling left the tech-savvy audience as enraptured as any crowd has been in Cosby's 50-year career.
Simply put, the man delivered. It was the ultimate example of the old meeting the new. The pairing may be surprising: Why would such a forward-thinking festival invite Bill Cosby, a man whose stand-up career peaked in the '70s and '80s? But Cosby's timeless appeal was immediately apparent: Funny Or Die, who hosted the event at the Austin bar Lustre Pearl, had to turn away hundreds of festival attendees, most of them under 30. Even though only about 200 people were in the bar to see him, the surrounding streets were packed with people straining to listen in to Mr. Cosby.
Although he's a longtime staple of television, Cosby first became a household name for stand-up comedy. His 1983 release "Bill Cosby: Himself" is still considered to be one of the finest comedy specials ever recorded, and his observational stand-up has influenced everyone from Eddie Murphy to Patton Oswalt. But "The Cosby Show" went off the air 22 years ago (a slightly lesser-known follow-up, "Cosby," aired from '96 to '00), and for the first time since the early '60s, an entire generation is quite likely to be indifferent to Bill Cosby.
Don't be surprised if that changes. In Austin, Cosby was as sharp as ever, delivering story after story to an outdoor crowd of a few hundred eager ears. The subjects were familiar -- family minutae, men versus women, riffs on the Bible -- but his delivery was extraordinary. Getting a crowd of bearded, plaid-clad techheads to stay with him for an extended joke about Tarzan was no small feat, but Cosby pulled it off.
Of course, Cosby's so-called "return," which also included a Comedy Central special last year, will face an uphill battle. He reportedly is signed to star in a new NBC sitcom, but TV audiences don't always warm to established stars like they once did -- just ask Michael J. Fox. Additionally, Cosby faces allegations of multiple counts of sexual assault throughout his career, and websites like Gawker have been diligent in holding him accountable. Cosby was never formally charged with a crime, but depending on the volume and veracity of the rumors, one could easily see him facing a Woody Allen-esque backlash.
But if Cosby's return hinges on his talent at storytelling, he will have no problem, as he's not embracing the old versus the new as much as proving that everything old is new again. One area that has undoubtedly changed, though, was the technology: Cosby sent his first Instagram at the festival, and images like the one below were widely seen afterwards.