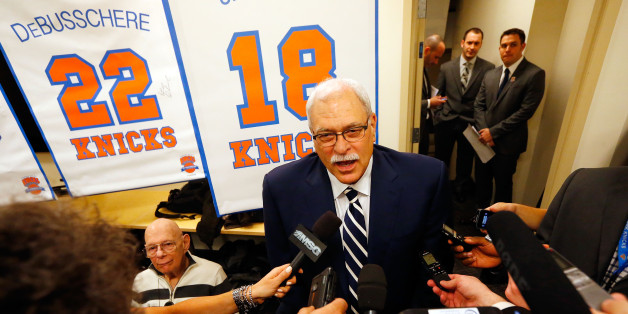 While the parties reportedly involved in negotiations remain silent, everyone else seems to be in a rush to confirm that Phil Jackson is joining the New York Knicks, officially.
A day after Seattle Seahawks coach Pete Carroll prematurely congratulated Jackson on his return to New York, former Knicks point guard Greg Anthony declared "it's official" in a tweet on Wednesday night.
.@nyknicks it's official @PhilJackson11 will be joining the Knicks! This move will go a long way in revamping the culture of this franchise!

— Greg Anthony (@GregAnthony50) March 13, 2014
While the New York Knicks made no actual official announcement on Wednesday night, one of the team's players tweeted shortly after Anthony. Whether J.R. Smith read Anthony's tweet or received similar news elsewhere, he seemed to approve of the move.
Can't wait to work with the great @PhilJackson11 #TheZenMaster

— JR Smith (@TheRealJRSmith) March 13, 2014
Anthony and Smith may have heard about Jackson's apparently imminent arrival from whomever spoke with Carmelo Anthony. The Knicks' top player told reporters that Jackson is "coming on board" before the team played in Boston on Wednesday.
"I still don't have a lot of the details, all the details," Anthony said, via The Associated Press. "Have I heard? Yeah, I've heard that he will be coming on board. It's not official yet. You can always use Phil Jackson's insight on whatever ... his philosophy, his mindset, his resume, what he brings to the game, what he brings to a team or organization. That goes without even saying, so we'll see how that plays out."
Citing an unnamed league source, Marc Berman of the New York Post had previously reported that Jackson had reached an agreement in principle to take over the Knicks' basketball operations. Given the proliferation of reports about the advanced stage of talks between the organization and the member of the last two Knicks teams to win championships who went on to win 11 titles as a coach, a reunion is widely anticipated to be formally announced in the coming days. Also citing an unnamed source, Chris Broussard of ESPN reported on Tuesday that an agreement between Jackson and the Knicks was expected to be finalized by the end of the week.
Despite the proliferation of such reports, Greg Anthony's tweet was met with some skepticism.
Nothing against Greg Anthony, but I'm still kinda waiting for Woj, Berger, Beck, Aldridge, Stein, or Amick to speak on this. #justsaying

— Darius Soriano (@forumbluegold) March 13, 2014
Kind of irks me that NBATV called this Phil news "official" when it was just a Greg Anthony report. Knicks announcement would be "official"

— Kenny Ducey (@KennyDucey) March 13, 2014
I'm in Arizona, DePaul wins at the BET, Greg Anthony scoops Woj- maybe I'm not in Arizona. Maybe I'm somewhere far scarier.

— Howard Megdal (@howardmegdal) March 13, 2014
If Greg Anthony just broke Phil Jackson to NY, Woj will go on a multi-state murder spree.

— netw3rk (@netw3rk) March 13, 2014
BEFORE YOU GO