 Imogen Poots has her own ready-made press tour anecdote for "Need for Speed," the new car-racing movie starring Aaron Paul in theaters this weekend: she doesn't have a driver's license.
"The irony is pretty terrific," Poots told HuffPost Entertainment in a recent interview. "I thought maybe I should get one so people don't think I'm insane doing the press for 'Need for Speed.' But then I thought it would make a pretty good story."
Poots, 24, stars as Julia Maddon in "Need for Speed," a car fiend who gets roped into driving cross country with Tobey Marshall (Paul), an ex-con who hopes to clear his name by winning a race, among other things. ("Need for Speed" is based on a video game; George Gatins wrote the film's script.)
"I really didn't know what to expect," said Poots, who makes her action film debut with the film. "It's a funny process, because you do your thing, and then the setup is perhaps catering to a stunt rather than a creative scene. Things about it where quite new to me for sure."
Poots said a large part of what drew her to "Need for Speed" was the presence of Paul. The pair had worked together previously on "A Long Way Down," and their onscreen chemistry in "Need for Speed" provides the film with some of its best non-racing moments.
"I think there's the overused thing, where people say they want to give characters real heart," Poots said. "But with a lot of action scripts, it's pretty sparse in terms of what's available to draw on, so it was exciting having him there. I think we were talking the same language in terms of doing something that obviously isn't going to be super realistic, but would also be relatable. Like, 'God, this is a crazy situation.' Maybe it's fun for the audience to see two characters sort of struggle with that."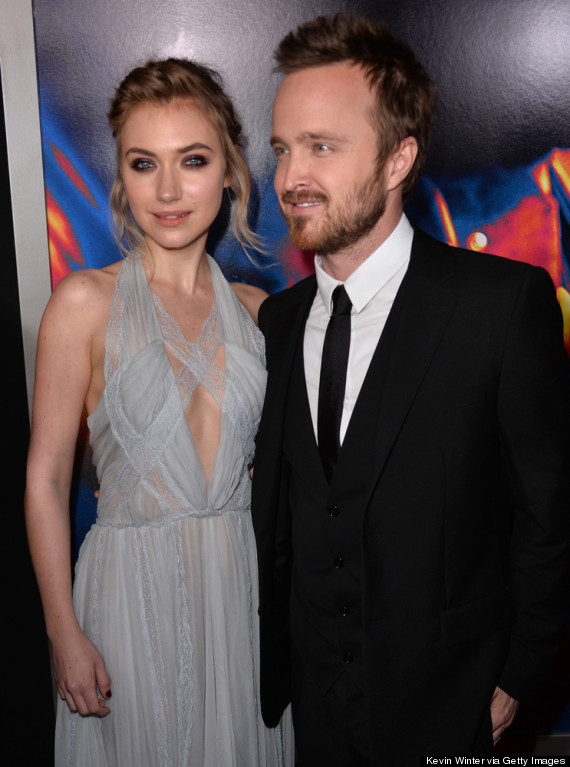 Imogen Poots and Aaron Paul at the premiere of "Need for Speed."
Poots has worked on a variety of projects in her short career, and with some major filmmakers as well (Cary Fukunaga, Richard Linklater, John Ridley, Terrence Malick and Peter Bogdanovich). The actress cited "A Late Quartet" and "JIMI: All Is By My Side" as films on her resume that "just felt right," but noted that "Need for Speed" provided her with an opportunity to step outside a normal comfort zone.
"It's funny, because it's actually a challenge to do something that's very academic," she said. "You're working with machines. These cars really would dictate how the day was going to go."
Poots had first-hand experience with those cars in her showcase scene: an action set piece that finds Julia taking the wheel away from Tobey as the pair look to escape a bunch of bad guys in hot pursuit. It's a sequence that gives her character some ownership of the film's stakes, and one that Poots felt very strongly about.
"I don't think I would have done the film if there hadn't been an opportunity for Julia to be part of it," Poots said. "I probably wouldn't have wanted to be a part of it."
Still, even with that moment in the script, Poots said she tried to enhance her character even more. She even wanted to affect a Southern accent for the role, before deciding against that choice.
"I find it quite dull if somebody is just like 'The Brit' in an American film," said Poots, who was born in London. "I find that kind of small-minded. I just wasn't that excited by [that prospect]. When I realized it wasn't just going to be about the cadence of her voice, but more to do with her as a character and where she came from, I was like, 'All right, this could work.'"
There was another reason, too, for her initial creative instinct: "I was also surrounded by truckers and I thought, 'Shit, I just want to do something fun here.'"
"Need for Speed" is out in theaters on March 14.
BEFORE YOU GO
PHOTO GALLERY
"Need For Speed" Photos