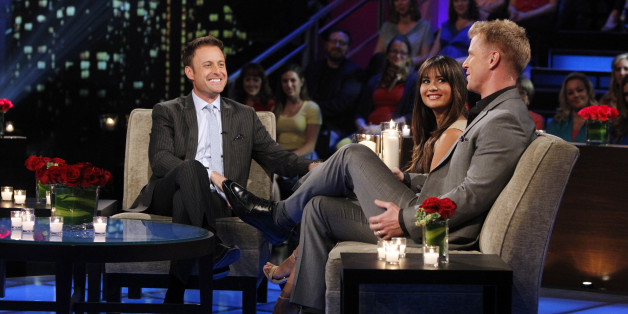 Monday's finale of "The Bachelor" left Juan Pablo Galavis as the most-hated "Bachelor" in franchise history, whether he deserved all the rage or not.
Former "Bachelor" Sean Lowe was at the "After The Rose" segment with Catherine Giudici, his wife whom he met and proposed to on the show, and during the special he laid into Galavis' desire for privacy after the show. On Tuesday, March 11, Lowe tweeted some more thoughts on the finale, telling Juan Pablo that he "owes it to fans and the network to open up."
My take on last night: I commend JP on not proposing if he isn't ready. And he certainly shouldn't feel pressured to say "I love you".

— Sean Lowe (@SeanLowe09) March 11, 2014
However, as the bachelor you can't say I want to keep my feelings private. You owe it to the fans and network to open up. That's the job.

— Sean Lowe (@SeanLowe09) March 11, 2014
Lastly, disrespecting the nicest guy in show business @chrisbharrison should be a crime. That's my take. Wish them nothing but happiness.

— Sean Lowe (@SeanLowe09) March 11, 2014
Lowe married Giudici on TV on Jan. 26 and has clearly played by the unwritten "Bachelor" rules. After his season of "The Bachelor" ended, Lowe competed in ABC's "Dancing With the Stars," a show which Galavis was rumored to have lost out on earlier this year.
In a Q&A session on Tuesday, Lowe said Galavis "didn't handle himself well" and he was surprised by how much Galavis "fought the producers on everything."
But Galavis continues to preach "privacy" days after the show's finale. He wrote in a tweet, "LOVE how @Nikki_Ferrell and I made UP tweets that we WANT to say and we LAUGH at them cause we DON'T write them because we are PRIVATE. jaja" and "Having a PRIVATE relationship doesn't mean we CAN'T post or say what WE want instead of what SOMEONE ELSE wants..."
Let's hope this is the end of the most bizarre "The Bachelor" saga yet.
BEFORE YOU GO
PHOTO GALLERY
The Bachelors Of 'Bachelor' Past