Ryan Jolley passed away at just 5 days old due to a condition known as Hypoxic-Ischemic Encephlopathy, or HIE, that occurs when oxygen flow to the brain stops.
Mom, Ashlee Hammac, wanted his brother, 3-year-old Tucker, to have a way to process the loss and mourn. So she turned the infant's grave into a sandbox -- a place for the boys to "play" together.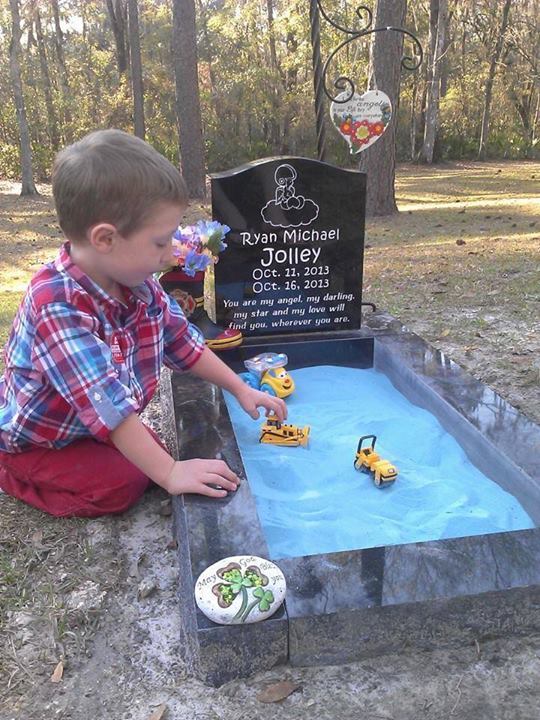 The boy's grandmother, Cindy, shared a photo of Tucker playing with trucks in the blue sand with Sawyer's Heart Project, a group that aims to provide support for bereaved parents. The image was posted to their Facebook page, and has since gone viral.
Mom told PEOPLE.COM that there has been overwhelming support from other parents who have lost children.
Now, the family has started a nonprofit, Pages to Memories, to help fund HIE research and create awareness.
They wrote on their Facebook Page: "As Ryan's parents we were left with many unknowns and don't want other families to have to go through losing there [sic] child to this condition, so we have set out to work with the team of doctors who took care of our son the Florida Neonatal Neurologic Network's (FN3)."
The family is remembering Ryan and sharing memories of his life with the world. Grandma made a montage of photos taken of Ryan (which you can watch above), and Mom and Dad have been posting them on Facebook.
Hammac shared the silver lining to her family's heartbreak with PEOPLE.com: Ryan's heart was donated to save the life of another baby.
BEFORE YOU GO
PHOTO GALLERY
Love In One Photo