A Houston man has been arrested for aggravated assault after he allegedly tried to run over a security guard who is also a triple amputee.
Jacaree Keith, 20, was arrested Tuesday for the Feb. 24 incident, in which he allegedly trespassed through an apartment building where he was banned. He has had a trespass notice against him ever since a Nov. 17 incident where he allegedly tried to choke his girlfriend, who is the mother of his child, the Houston Chronicle reports.
When Keith returned to the complex on Feb. 24, part-time security guard and resident Joseph Montemayor attempted to photograph his license plate, according to KTRK-TV.
At that point, Keith allegedly tried to run over Montemayor, 47, who lost both legs and his left arm in a childhood train accident.
Montemayor said Keith's car came within a foot of hitting him.
"He saw the flash of the camera and came right at me. You could hear him gun it enough to jump the curb," Montemayor said, according to KENS5.com. "Every intention was to run me over, that's for sure," he explained.
Montemayor managed to avoid being hit. The suspect then allegedly jumped out of his car and told Montemayor that he was going to break the guard's neck or kill him.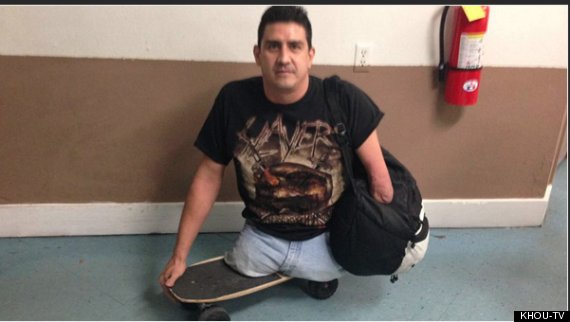 Montemayor rode his motor-assisted wheelchair into the apartment office followed by Keith, who was still threatening to kill him, according to police records.
A maintenance man kept Keith from getting into the office, and also attempted to take a photo of the suspect's license plate.
Keith then allegedly got back in his car and attempted to run over the maintenance worker, also coming within a foot of hitting him, according to the Houston Chronicle.
Keith is now in jail on $30,000 bond, while Montemayor's fellow apartment residents are hailing him for his courage.
He tells KHOU-TV if there's one thing he hopes people learn from the story it's this: "Never underestimate anyone, period."
BEFORE YOU GO
PHOTO GALLERY
Dumb Criminals: Mugshot Gallery