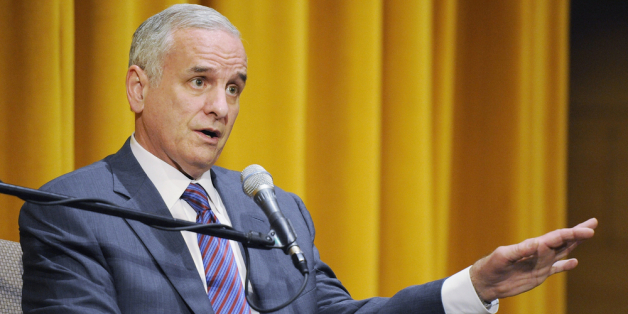 After meeting with 11 medical marijuana supporters on Thursday, Minnesota Gov. Mark Dayton (D) appears to have emerged with a more open outlook on potential policy options.
The Star Tribune reports that thanks to the personal stories shared with him, Dayton had revised his views to push for a medical marijuana compromise. A spokesperson for the governor told the paper that it was difficult for him to hear these visitors "enduring such pain and suffering."
"Nobody wants to be in a position of causing anybody undue suffering or standing in the way of anybody's suffering being relieved," Dayton said, according to the Associated Press. "But you're talking about making law and public policy for 5.3 million people. You have to weigh in the balance what the experts say are the gains for how many people and what they say are the likely losses for how many people."
The AP added that Dayton is keeping his options open, balancing his views on how to help those in need, while supporting a plan that falls in line with police concerns.
"This is about taking law enforcement's veto pen away," Heather Azzi, Political Director for Minnesotans for Compassionate Care political director, told the AP. "The governor offered us a new negotiating partner today."
Earlier in the week, hopes for a medical marijuana bill stalled in the Minnesota House. State Rep. Carly Melin (DFL), the legislation's chief sponsor, told the Pioneer Press Tuesday that despite offering "a number of concessions," negotiations fell flat.
"They still rejected the proposal, so I just don't know where to go from here," Melin said.
Melin spokesperson Matt Roznowski told Minneapolis City Pages on Wednesday that the next step was for marijuana supporters to directly reach out to their elected officials. And with Thursday's Dayton meeting in the books, advocates appear to have gained a renewed sense of hope that something can happen. According to the AP, the governor told the group that they would receive an opportunity to meet with the state health commissioner, among other items.
"I'm really optimistic that we can make significant progress and we can pass this bill," Patrick McClellan, a 47-year-old resident who has multiple sclerosis and other ailments, told the AP.
McClellan also delivered this statement (via The Marijuana Policy Project):
"We sincerely appreciate Governor Dayton welcoming us into his home and listening to the patients and families who would benefit from legal and safe access to medical marijuana. More importantly, it appears he has taken the veto pen out of the hands of law enforcement and will no longer obstruct the advancement of widely supported medical marijuana legislation. We look forward to working with his chief of staff and health commissioner to arrive at a compromise so we can finally see the adoption of a workable medical marijuana law this session."
BEFORE YOU GO
PHOTO GALLERY
People More Evolved Than Obama On Pot