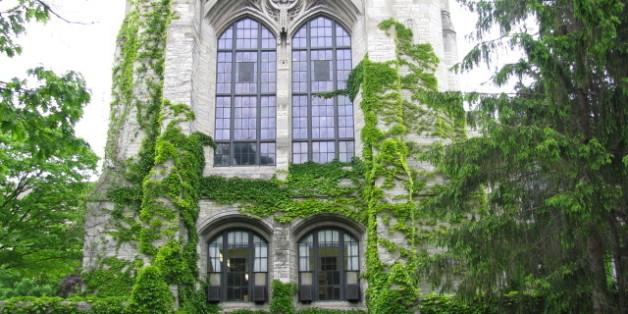 A Northwestern University professor facing a lawsuit and intense student and faculty protests over allegations he sexually attacked a student will not teach for the rest of the school year.
In addition, the professor's future post at Rutgers University remains uncertain.
Professor Peter Ludlow will not teach a previously scheduled philosophy course when Northwestern's spring quarter starts March 31, President Morton Schapiro confirmed to the Tribune Thursday.
"With all the controversy and allegations out there, to have him teach in the spring wouldn't be the right thing to do," Schapiro said.
Ludlow, who was scheduled to teach a 200-level philosophy course, did not teach his remaining courses for the current quarter, either.
On March 4, students swarmed Ludlow's classroom to protest his continued employment at Northwestern and to criticize the school's policies regarding sexual violence.
The student, now a junior, claims Ludlow sexually attacked her in 2012 after plying her with alcohol and refusing to take her back to campus after an art event in Chicago. Instead, the student says Ludlow took her to his home where she blacked out and later woke up in his bed.
The student has also sued the school for failing to take proper action against Ludlow after officials determined he sexually harassed. The university maintains its subsequent action against Ludlow was sufficient.
Meanwhile, Ludlow is reportedly slated to take a tenured position at another school this fall -- a move Slate notes would be the professor's fourth such position in 12 years.
In February, the New Jersey Star-Ledger reported Ludlow was still slated to take a job at Rutgers University when news of the allegations against him first emerged.
Ludlow's move to Rutgers was noted as early as last November by Brian Leiter, a University of Chicago Law School professor who runs the Leiter Reports philosophy blog. Leiter reported Ludlow had accepted a "senior" offer with the school's philosophy department, as well as an appointment to serve as the director of the Rutgers Center for Cognitive Science.
When reached for comment Thursday, Rutgers spokesman Greg Trevor told HuffPost via email, "No final offer has been made to Dr. Ludlow and the university intends to review all pertinent information before considering whether to make such an offer."
Trevor said Rutgers' stance did not reflect any change in the school's offer.
Rutgers' student paper criticized the administration for not researching potential hires more thoroughly, writing, "Rutgers doesn't need another scandal" in reference to the mounting settlements the school has reached in the past year over various accusations of bullying, abuse and misconduct.