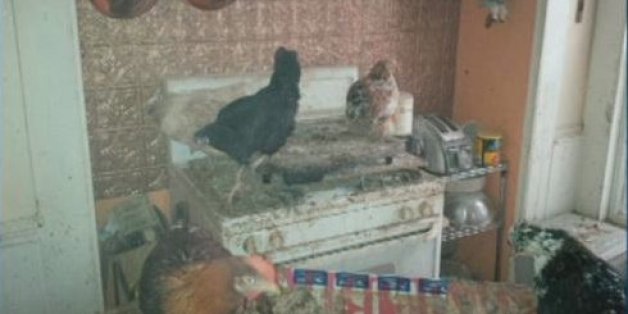 A Plainville, Conn. couple could face criminal charges after authorities found nearly 200 diseased chickens crammed in their home, WFSB reports.
Calling it "one of the most extreme cases of animal hoarding," Department of Agriculture officials said all of the birds would have to be euthanized. The house was quarantined after it was revealed that all the birds were infected with a highly contagious respiratory disease.
"There was no threat to humans," Steven Jensen, of the state Department of Agriculture told NBC Chicago. "But the conditions in the house were so unsanitary that the house was quarantined and the homeowners were evicted."
The couple, Joe and Mary Honyak, had their first run-in with police when they were told they couldn't stay at their home any longer because of a faulty furnace. That's when police found the chickens, WFSB reports. They were allowed to return to care for the foul fowl from time to time.
Neighbors are shocked, telling Fox Connecticut that they thought only four or five chickens lived in the house. Pictures surfaced of chickens and filth all over the home. Cops called the house itself a chicken coop.
Police said the two could face animal neglect charges.
BEFORE YOU GO
PHOTO GALLERY
Animals In The News