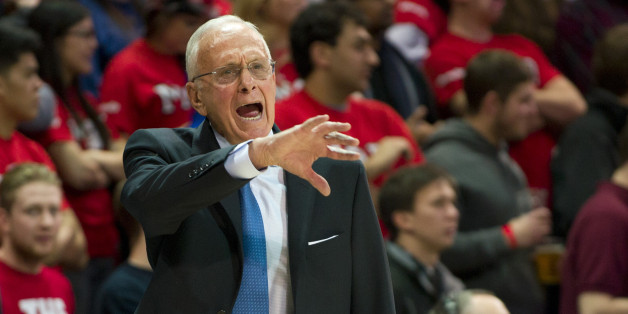 There was a party but no celebration on the campus of Southern Methodist on Selection Sunday.
When the field of 68 teams for the 2014 NCAA Tournament was unveiled, Larry Brown's SMU Mustangs (23-9) were the most notable absence. Despite being ranked No. 25 in the AP Top 25 and No. 23 in the USA Today Coaches Poll for the Week of March 10, the Mustangs were left on the outside looking in.
CLICK HERE for printable 2014 NCAA Tournament Bracket

The SMU players and their fans congregated at Moody Coliseum on campus to watch as the bracket was unveiled during a live selection show on Sunday.
Crowd is in place. @SMUBasketball is in place. Now, we await the news! #ponyup #MarchtoMadness pic.twitter.com/U4BmABIVgp

— SMU MustangVision (@PonyUpTV) March 16, 2014
Despite being upset by Houston in the American Athletic Conference Tournament quarterfinals, SMU and its fans were hoping to earn one of 36 at-large bids in the NCAA Tournament.
"When I saw some of the teams that got in, Xavier, NC State, some of the late teams and then I didn't see any American Athletic Conference teams in the first two regions, then all of a sudden I see Louisville at four, I knew we were going to be in trouble," Brown said, via The Dallas Morning News.
As it became increasingly clear that the Mustangs were going to be left out, the mood at Moody changed.
This picture says it all. SMU will have to wait another year for a shot at the NCAA tournament. Crowd is stunned pic.twitter.com/DPeQq5h83C

— David Watkins (@dwatkinsNBC5) March 16, 2014
As a consolation prize, SMU was named a No. 1 seed in the NIT. The Mustangs will host UC Irvine on Wednesday, March 19.