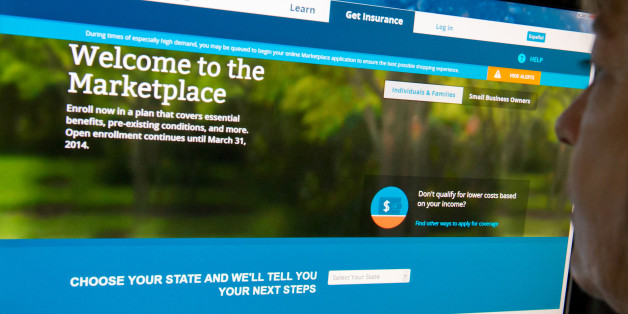 It's been a while since we got to read a solid, hopelessly clueless op-ed inveighing against Obamacare, but The Washington Times' Joe Curl brings us a snow-day special. Seems that he noticed, some days back, that there were 46 million people in these United States who were uninsured. In 2009, researchers at the Harvard Medical School found that 45,000 people a year died because they lacked insurance, so it's nice that Curl finally noticed this! However, as it turns out, he saw another big number in the news more recently, and now he can haz confusion. Per Curl:
But last week came word that with just 15 days left for people to enroll for federal coverage, just 4.2 million had. The math is simple: That's just 9 percent of the supposedly 46 million uninsured.
(Just a quick aside here: If "the word" on the 4.2 million enrollees arrived last Tuesday, that would have meant there were 20 days left to enroll. Also, that 4.2 million figure is the total from the first of March, so there were actually 30 whole days in which to increase enrollment. I know ... details.)
"It will be a larger number than that by the end of March," Mr. Obama promised in an interview with WebMD. "At this point, enough people are signing up that the Affordable Care Act is going to work."

Still, the obvious question is: We changed the $2.7 trillion health care system to sign up 4.2 million people?
The obvious answer is: No, calm down, that's not what we did. I'm actually just as concerned about who gets left on the outside-looking-in as far as being uninsured in the Obamacare era. Actually, I'm clearly more concerned, because I prefer to get this stuff right.
In the first place, that "46 million people are uninsured" number? That's an estimate according to the Census Bureau. According to the Congressional Budget Office's February 2014 baseline covering the "Insurance Coverage Provisions of the Affordable Care Act," there were actually 57 million non-elderly uninsured people in the marketplace under prior law. These are both perfectly legitimate estimates, but since I'll be referring to CBO projections, I figure we'll use its higher number.
Secondly, that 4.2 million figure? That refers to "people who will enroll in the exchanges," not "people who will suddenly have health insurance and come off the rolls of the uninsured." Those who do participate in the exchanges aren't really participating in some radically altered "$2.7 trillion health care system." They're purchasing health insurance from the same old insurance companies from whom people have always purchased insurance -- albeit in a more just and equitable marketplace, with stronger regulations governing the types of policies they can purchase.
Now, that 4.2 million figure is much lower than the administration wants it to be. It is their hope that at some point this year, it will be much higher. From time to time, the administration has suggested that their end-of-March benchmark for success was 7 million exchange enrollees, and at other times, they've walked that back. Now, the administration is holding 6 million enrollees out as their goal, but it's fair to say that 7 million is the number the administration would like to hit if they had their druthers. In any event, the bottom line is that you can blame that disastrous first month the exchanges were open for depressing the enrollment, so the administration definitely owns any shortfall in the numbers.
Nevertheless, these figures also don't count people who buy direct from a health insurance company, even though almost all of those people are buying ACA-compliant plans. And anyone not in a "grandfathered" plan or one of those extended not-yet-canceled plans is in the same risk pool as the exchange enrollees. So when all is said and done, we're going to have a lot more people in ACA-compliant plans (i.e., the new market for individual insurance, broadly speaking) than the number of people who actually use an exchange to buy insurance.
Of course, with all this nitpicking over 6 million here and 7 million there ... that's still such a small number when we're talking about the uninsured population. Ahh, but remember: The health insurance exchanges aren't the only way the Affordable Care Act is supposed to reduce the ranks of the uninsured. Furthermore, no one ever promised that substantial reductions in the large number of uninsured were going to happen quite so rapidly. Check out the CBO's projections: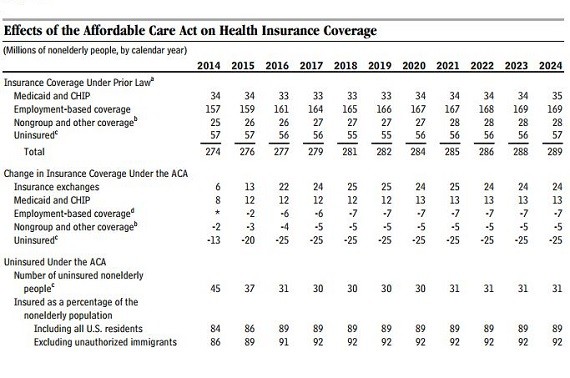 One of the things Curl is forgetting is that the Affordable Care Act is also reducing the ranks of the uninsured by expanding Medicaid and the Children's Health Insurance Program. In fact, in the fully implemented law's first two years, the expansion of these programs is projected to have at least as significant an impact on reducing the pool of uninsured Americans as the exchanges themselves. By the time we get to 2016, however, the total number of uninsured drops by 25 million. As a percentage of the U.S. population, the law is projected to insure 89 percent of the population by 2017; 92 percent if you exclude "unauthorized immigrants" from the total U.S. population denominator. (There's not a lot of support for expanding Obamacare benefits to that population, anyway.)
There's also a hard-to-track number of people who are currently insured by dint of a rule that allows younger Americans to remain on their parents' insurance policies until they are 26 years old. Because it's hard to track, it's easy to tout a rosier number. I think that The Washington Post's Glenn Kessler has done the best spadework on this and provides the most conservative estimate:
First, an estimated 3.1 million Americans younger than 26 joined their parents' plans because of a provision that took effect in September 2010. One big caveat about that Health and Human Services Department estimate is that it is about two years old -- and has never been updated.

The Fact Checker dug into the more recent reports and found that it was based on a single quarterly figure that was not sustained in later quarters. (That might be why the report was never updated.) However, the overall increase in the percentage of insured young adults suggests a gain of about 2.8 million from the third quarter of 2010 to the first half of 2013. Given quarterly fluctuations, a more conservative approach would be to use the average figure for 2010 as the base; that would reduce the increase to 2.2 million people. That is still substantial.
Finally, via Gallup, here's an overview of what's been happening to the uninsured population in recent months:
The percentage of Americans without health insurance continues to fall, measuring 15.9% so far in 2014 compared with 17.1% in the fourth quarter of 2013.

...

The uninsured rate has been declining since the fourth quarter of 2013, after hitting an all-time high of 18.0% in the third quarter. The uninsured rate for the first quarter of 2014 so far includes a 16.2% reading for January and 15.6% for February.

The uninsured rate for almost every major demographic group has dropped in 2014 so far. The percentage of uninsured Americans with an annual household income of less than $36,000 has dropped the most -- by 2.8 percentage points -- to 27.9% since the fourth quarter of 2013, while the percentage of uninsured blacks has fallen 2.6 points to 18.3%. Hispanics remain the subgroup most likely to lack health insurance, with an uninsured rate of 37.9%.

The percentage of uninsured has declined across all age groups this year, except for those aged 65 and older. The uninsured rate for that group has likely remained stable because most Americans aged 65 and older have Medicare. The uninsured rate among 26- to 34-year-olds and 35- to 64-year-olds continues to decline -- now at 26.6% and 16.3%, respectively.
Which is pretty good, all told. But it still leaves a lot of people uninsured. Thanks to a study conducted by the Urban Institute at Wake Forest University, we know something about who these people are: Some of those people reside in states not expanding Medicaid, some are undocumented immigrants (who aren't even allowed to use the exchanges to buy insurance with their own money), and others -- perhaps the people the Obama administration should be most concerned about -- still find insurance unaffordable even with the subsidies that are available through the exchanges.
What's to be done to help that still substantial population? That's actually a much better question than "We changed the $2.7 trillion health care system to sign up 4.2 million people?" But then, that's the sort of thing you ask when your concern for the uninsured population of the United States didn't begin yesterday. Because one of the answers is that a number of people who would get coverage through expanded Medicaid aren't getting it because their governors hate both Obamacare and their own constituents.
[Would you like to follow me on Twitter? Because why not?]
BEFORE YOU GO
PHOTO GALLERY
U.S. State Capitol Buildings