Looking for the perfect wedding anniversary card for your spouse? Why not ask President Obama to send one for you -- because you totally can!
The White House offers a program where U.S. citizens can ask the President of the United States to send personalized wedding anniversary cards for couples married 50, 60, or 70 plus years.
Here's the catch -- the White House is pretty busy. They receive 65,000 letters a week, plus around 100,000 emails, 1,000 faxes and 2,500 to 3,500 calls per day for all sorts of things, including greeting requests for wedding anniversaries, birthdays, births, hard work, etc.
In order to make sure your request gets read, address it to "The White House: Greetings Office" (you can even send it online). Send the request at least six weeks in advance and make sure to include all the right information.
And if you want to see what the cards look like from Presidents past -- just check out Ebay, where some people are trying to score some cash for them. The one below is signed by President Clinton and currently priced at $14.99.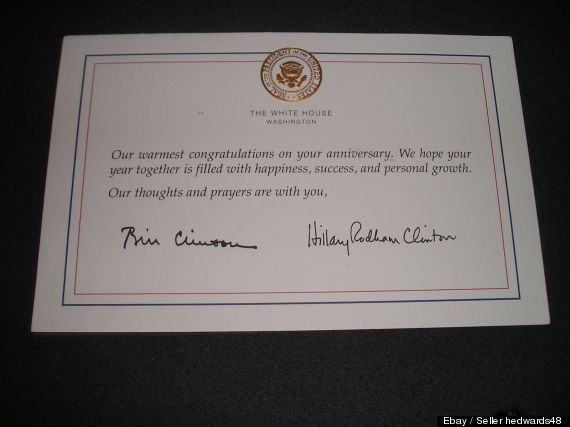 Keep in touch! Check out HuffPost Weddings on Facebook, Twitter and Pinterest.
BEFORE YOU GO
PHOTO GALLERY
Top 10 Wedding Anniversary Getaways