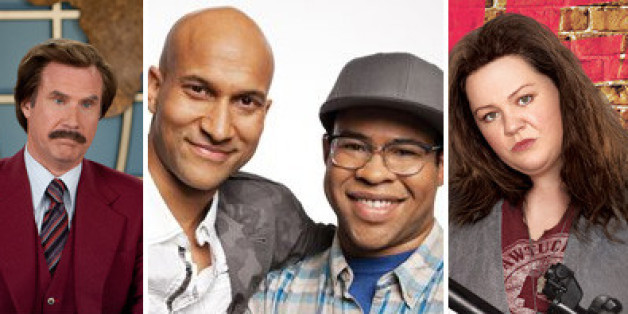 If you haven't voted for your favorite stand-ups, comedy movies, TV shows and viral videos, today is your last chance. The American Comedy Awards, which will air on May 15, are open for public voting until Tuesday, March 18 at 11:59 p.m. ET/8:59 p.m. PT.
Categories include Comedy Film, Comedy Series, Comedy Special, Club Comic, Late Night Talk Show and more. While some of the most recognizable names in the field are among the nominees, the show promises to laud the comedic work that often goes unnoticed by other awards shows. For example, in the film category, Academy Award contender "Nebraska" faces tough competition from fan favorites such as "The World's End" and "The Heat."
The Alternative Comedy Series category features some of the most inventive shows on television right now with "Archer," "Key & Peele" and "Portlandia" nominated amongst others. And the Club Comic and Viral Video categories feature the people that most of us spend our time talking about online.
Full list of nominees is below. To cast your vote before it's too late, visit NBC's American Comedy Awards site or the Facebook Voting App.
2014 "AMERICAN COMEDY AWARDS" NOMINATIONS
COMEDY FILM
"Anchorman 2: The Legend Continues"
"The Heat"
"Jackass Presents: Bad Grandpa"
"Nebraska"
"This Is the End"
COMEDY ACTOR — FILM
Bruce Dern, "Nebraska"
Will Ferrell, "Anchorman 2: The Legend Continues"
Johnny Knoxville, "Jackass Presents: Bad Grandpa"
Simon Pegg, "The World's End"
Seth Rogen, "This Is the End"
COMEDY ACTRESS — FILM
Lake Bell, "In a World…"
Sandra Bullock, "The Heat"
Julia Louis-Dreyfus, "Enough Said"
Melissa McCarthy, "The Heat"
Kristen Wiig, "The Secret Life of Walter Mitty"
COMEDY SUPPORTING ACTOR — FILM
Louis C.K., "American Hustle"
Steve Carell, "Anchorman 2: The Legend Continues"
Will Forte, "Nebraska"
Jonah Hill, "This Is the End"
Danny McBride, "This Is the End"
COMEDY SUPPORTING ACTRESS — FILM
Scarlett Johansson, "Her"
Jennifer Lawrence, "American Hustle"
June Squibb, "Nebraska"
Emma Watson, "This Is the End"
Kristen Wiig, "Anchorman 2: The Legend Continues"
COMEDY DIRECTOR — FILM
Paul Feig, "The Heat"
Spike Jonze, "Her"
Alexander Payne, "Nebraska"
Seth Rogen & Evan Goldberg, "This Is the End"
Edgar Wright, "The World's End"
COMEDY SCREENPLAY
"The Heat," written by Katie Dippold
"Her," written by Spike Jonze
"Nebraska," written by Bob Nelson
"This Is the End," written by Seth Rogen & Evan Goldberg
"The World's End," written by Simon Pegg & Edgar Wright
COMEDY SERIES
"Brooklyn Nine-Nine"
"Modern Family"
"Parks and Recreation"
"Saturday Night Live"
"Veep"
ALTERNATIVE COMEDY SERIES
"Archer"
"Drunk History"
"Key & Peele"
"Kroll Show"
"Portlandia"
LATE NIGHT TALK SHOW
"The Colbert Report"
"Conan"
"The Daily Show with Jon Stewart"
"Jimmy Kimmel Live!"
"Late Night with Jimmy Fallon"
COMEDY ACTOR — TV
Fred Armisen, "Portlandia"
Jason Bateman, "Arrested Development"
Keegan-Michael Key, "Key & Peele"
Jordan Peele, "Key & Peele"
Andy Samberg, "Brooklyn Nine-Nine"
COMEDY ACTRESS — TV
Zooey Deschanel, "New Girl"
Lena Dunham, "Girls"
Julia Louis-Dreyfus, "Veep"
Amy Poehler, "Parks and Recreation"
Amy Schumer, "Inside Amy Schumer"
COMEDY SUPPORTING ACTOR — TV
Aziz Ansari, "Parks and Recreation"
Will Arnett, "Arrested Development"
Ty Burrell, "Modern Family"
Bill Hader, "Saturday Night Live"
Tony Hale, "Veep"
COMEDY SUPPORTING ACTRESS — TV
Vanessa Bayer, "Saturday Night Live"
Julie Bowen, "Modern Family"
Kate McKinnon, "Saturday Night Live"
Chelsea Peretti, "Brooklyn Nine-Nine"
Aubrey Plaza, "Parks and Recreation"
COMEDY WRITING — TV
"Arrested Development"
"The Colbert Report"
"Key & Peele"
"Modern Family"
"Parks and Recreation"
COMEDY DIRECTING — TV
"Arrested Development"
"Eastbound & Down"
"Key & Peele"
"Modern Family"
"Parks and Recreation"
COMEDY SPECIAL OF THE YEAR
"Aziz Ansari: Buried Alive"
"Kristen Schaal: Live at the Fillmore"
"Louis C.K.: Oh My God"
"Mike Birbiglia: My Girlfriend's Boyfriend"
"Patton Oswalt: Tragedy Plus Comedy Equals Time"
"Sarah Silverman: We Are Miracles"
CLUB COMIC
Maria Bamford
Bill Burr
Jerrod Carmichael
Ron Funches
Kyle Kinane
Sebastian Maniscalco
Sean Patton
Brian Regan
Rory Scovel
Doug Stanhope
VIRAL VIDEO
"Bad Lip Reading: The NFL"
"Bound 3" (James Franco & Seth Rogen)
"Dead Giveaway" (Charles Ramsey Cleveland Hero Remix)
"How Animals Eat Their Food"
"Miley Cyrus: Wrecking Ball" (Chat Roulette Version)
"Sad Cat Diary"
"Sexy Pool Party"
"Taylor Swift: I Knew You Were Trouble" (Goat Edition)
"What Does the Fox Say?"
"Worst Twerk Fail EVER – Girl Catches Fire"