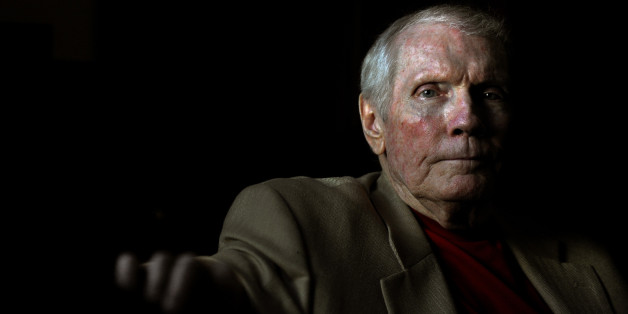 Westboro Baptist Church founder Fred Phelps Sr. has been making headlines this week with news surfacing that the anti-gay pastor is "on the edge of death."
It has also been confirmed that Phelps was excommunicated from the church last year, reportedly for advocating a "kinder approach between church members."
VICE reached out to Lucien Greaves, spokesperson for the New York-based Satanic Temple, to get his take on the imminent death of Westboro's notorious founder. Greaves garnered media attention in late 2013 when he performed a "Pink Mass" over the grave of Phelp's mother, Catherine Johnston, a ritual that Greaves claimed would make Johnston gay in the afterlife.
Greaves is now claiming that he will perform another "Pink Mass" -- this time over the grave of Phelps following his death. Greaves told VICE:
The Satanic Temple exercised its own right to offensive Free Speech in our performance of the Pink Mass at Fred Phelps's mother's grave this past summer. After having two same-sex couples (one male, one female) engage in homoerotic activity at the grave site, we declared Fred Phelps's mother a post-mortem homosexual conversion. At the time, I predicted that Fred hadn't too much longer till he would pass, and I stated –- in a direct tweet to the WBC -– that I would be presiding over Fred's own Pink Mass before too long. As I have made a promise to a dying man, I fully intend to do my very best to see it through, and the pomp and circumstance of this Pink Mass will surely far, far exceed that of the original event in Meridian, Mississippi.
Greaves' statement in full is available through VICE.
Greaves also made waves last summer when his group announced their plans to erect a Satanic statue on the steps of the Oklahoma statehouse. "Our monument, alongside the Ten Commandments monument, sends a strong and direct message," he previously told HuffPost Live, "and that message is more in line, I think, with our American values of inclusiveness and equality in the eyes of the law."
BEFORE YOU GO
PHOTO GALLERY
Straight Allies Who Support The LGBT Community