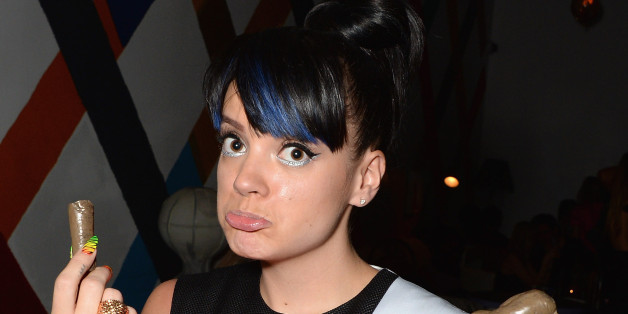 After taking a four-year break from music, Lily Allen is back and more controversial than ever.
In a recent segment on BBC Radio 2, Allen interviewed British Vogue editor Alexandra Shulman and their conversation took an inevitable turn towards music.
"It's interesting that some of the biggest artists, if not most of them, are women," Shulman noted. Allen put in her two cents, responding, ''You'll also notice, of those big, successful, female artists, there's always a man behind the woman-piece."
Instead of celebrating the hard work and accomplishments of certain women in music, Allen acknowledged the men -- without whom they could never have made it to the top, apparently: "Whether it's Beyoncé it's Jay Z, if it's Adele it's Paul Epworth, with me it was Mark Ronson, same with Amy Winehouse."
"It's sort of like you never get that with [male artists]," she continued. "You can't think of the man behind the man because it's never a conversation which is bought up. If you're Ed Sheeran nobody talks about who produced his music."
Although Allen may have tried to highlight the intense scrutiny female artists undergo during their rise to the top -- while men are presumed to succeed all on their own -- her comments inadvertently helped reinforce the idea that every powerful female artist needs a powerful man to make it.
[h/t Entertainment Wise]
CLARIFICATION: An earlier version of this piece left out some the latter part of Allen's comment. It has been added for context.
BEFORE YOU GO
PHOTO GALLERY
Celebrities Who Have Spoken Against Photoshop