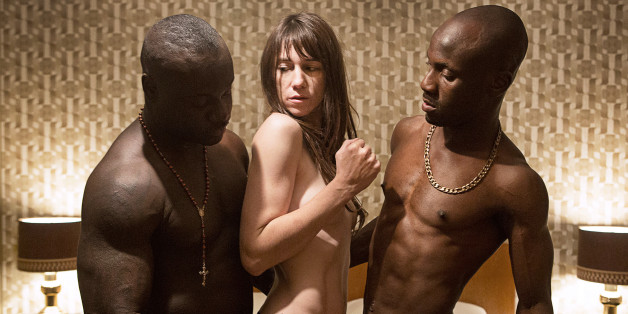 Lars von Trier's "Nymphomaniac"; or, the movie of endless controversy. The notorious director, known for his distinctive aesthetic and abrasive persona, has been the subject of a two-year media onslaught for his new sex drama, which was spilt into two parts for release: "Nymphomaniac: Vol. I" is currently available via on-demand services and opens in theaters on Friday; "Vol. II" arrives in April. We've charted the endless controversy in one timeline, because even if you know a lot about this wild movie, you can never know enough.
March 2011: Lars von Trier tells Screen Daily that he's working on a movie about "a woman who discovers her eroticism." The director says Peter Aalbæk Jensen, who's produced each of von Trier's movies since 1991's "Europa," told him that a tentative title such as "The Nymphomaniac" would "already be financed."
May 2011: While promoting "Melancholia" at a Cannes Film Festival press conference, von Trier says he "understand[s]" Adolf Hitler and jokingly claims to be a Nazi. He apologizes hours later, saying he's "not anti-Semitic or racially prejudiced in any way." The following day, the festival directors declare him persona non grata.
August 2011: It's revealed "Nymphomaniac" will see both a hardcore version including penetration scenes and a softer cut that can be shown "in more mainstream cinemas."
October 2011: Von Trier walks back his Cannes apology during an interview with GQ. "To say I'm sorry for what I said is to say I'm sorry for what kind of a person I am, I'm sorry for my morals, and that would destroy me as a person. It's not true. I'm not sorry," he said. "I am not sorry for what I said. I'm sorry that it didn't come out more clearly. I'm not sorry that I made a joke, but I'm sorry that I didn't make it clear that it was a joke. But I can't be sorry for what I said -- it's against my nature." During an interview with Danish police, he says he'll never speak to the press again.
December 2011: Unsurprisingly, Charlotte Gainsbourg emerges as the actress sought to play Joe, the film's title character. Gainsbourg also starred in von Trier's previous two features, "Melancholia" and "Antichrist," which combine with "Nymphomaniac" to form the director's Depression Trilogy. We also learn the movie will be split into eight chapters.
February 2012: The "Nymphomaniac" logline is revealed at the Berlin Film Festival: "'Nymphomaniac' is the light and poetic story of a woman's erotic journey from birth to the age of 50 as told by the main character, the self-diagnosed nymphomaniac, Joe. On a cold winter's evening Seligman, an old bachelor, finds Joe semi-unconscious and beaten up in an alleyway. After bringing her to his flat he sees to her wounds while trying to understand how things could have gone so wrong for her. He listens intently as she over the next eight chapters recounts the lushly branched-out and multifaceted story of her life, rich in associations and interjecting incidents."
April 2012: Gainsbourg and Stellan Skarsgård officially sign on. The movie will be shot simultaneously but released as two volumes, eyeing a 2013 Cannes Film Festival premiere (despite von Trier's banishment).
May 2012: Louise Vesth, a producer for Danish film company Zentropa, confirms that "Nymphomaniac" will contain an abundance of graphic sex, mostly shot using porn doubles and "groundbreaking" technology. "We shot the actors pretending to have sex and then had the body doubles, who really did have sex, and in post we will digital-impose the two," Vesth tells The Hollywood Reporter. "So above the waist it will be the star and then below the waist it will be the doubles."
August 2012: Shia LaBeouf eyes the drama, and Nicole Kidman hints that she'll take a small, unspecified role in the movie. A few weeks later, LaBeouf's casting is made official. Jamie Bell and Connie Nielsen join the cast as well.
August 2012: LaBeouf reveals during an MTV interview that he's nervous about what he's gotten himself into because the sex scenes may be unsimulated. "For instance, there's a disclaimer at the top of the script that basically says we're doing it for real," he said. "Everything that is illegal, we'll shoot in blurred images. Other than that, everything is happening." The movie begins filming in Germany.
September 2012: Whoa there, Shia. Skarsgård contradicts LaBeouf's comments, telling THR that "body doubles" and "visual effects" will be used during the movie's sex scenes. "When we call this a porno, it's meant ironically, but irony doesn't work well in print," he said. "The film is sexually explicit, but, believe me, it will be a very, very bad wanking movie."
October 2012: Uma Thurman signs on for an unspecified role, seemingly replacing Kidman.
February 2013: Peter Aalbæk Jensen reveals the movie won't be ready in time for May's Cannes Film Festival.
May 2013: The first image -- an explicit tableau featuring the entire cast -- is released on the movie's website.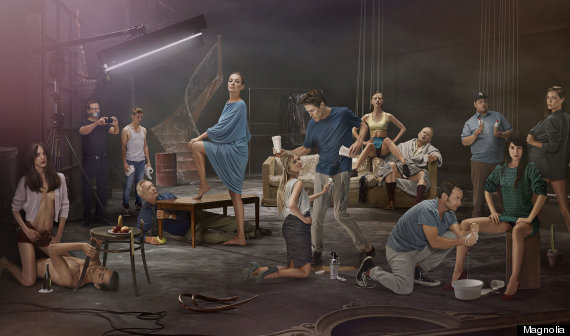 June 2013: The first of eight "appetizers" (clips from each chapter) is unveiled.
July 2013: LaBeouf in the buff makes its "Nymphomaniac" debut with this photo.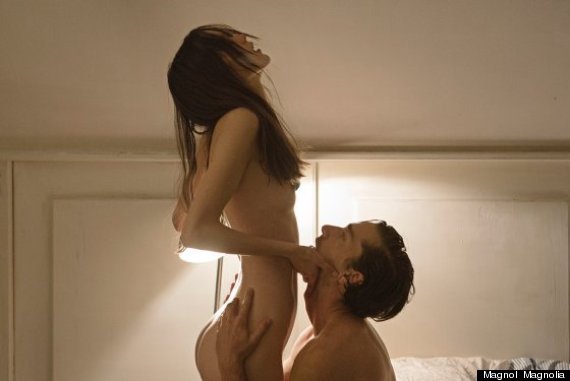 July 2013: The second clip features LaBeouf and newcomer Stacy Martin, who plays the younger version of Joe.
August 2013: Thurman's clip is introduced with a curious description: "Keeping track of a large network of lovers isn't always easy, and Joe is soon confronted with the unpleasant consequences of being a nymphomaniac. After all, you can't make an omelet without breaking a few eggs."
September 2013: Apparently von Trier wants to turn the movie into a TV spinoff, because we won't have already seen enough.
September 2013: A dreary black-and-white clip narrated by Skarsgård introduces Chapter 4.
October 2013: A series of salacious posters depicts 14 characters mid-orgasm.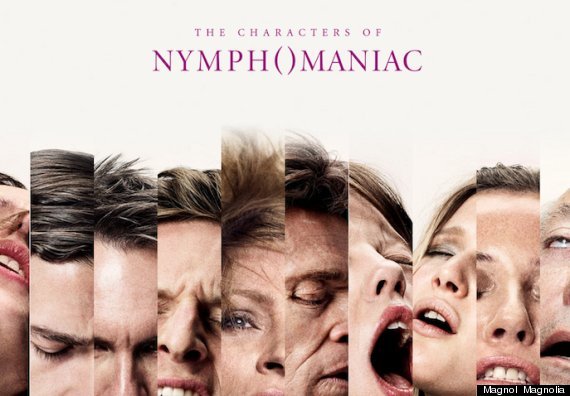 October 2013: Maintaining his promise not to interact with the media, von Trier does not attend a private press screening of the film.
November 2013: LaBeouf's sex scene marks the fifth clip.
November 2013: An incredibly NSFW trailer for the entire two-part movie debuts. Producer Louise Vesth reveals that von Trier also plans to release an extended five-and-a-half-hour cut that features "more close-ups of genitals."
December 2013: Gainsbourg gets her first clip.
December 2013: Gainsbourg is front and center in another clip, but this one's considerably tamer. Is "Nymphomaniac" going soft on us? (Yeah, that's a pun.)
December 2013: Families at a Florida theater are treated to what some think is the "Nymphomaniac" trailer while waiting for their delayed screening of "Frozen" to begin. It's later revealed to be the opening moments of "Dallas Buyers Club."
December 2013: The movie has its world premiere in Denmark. Critics are generally fond of it, noting surprise at the humorous approach and less-explicit-than-expected sex. Skarsgård calls it "a really bad porn movie."
December 2013: Gainsbourg is back at it in the movie's final appetizer, which finds her using a man's genitals as a "very reliable truth detector."
January 2014: The Romanian Cinema Board bans "Nymphomaniac: Vol. II." (The first part was already running in Romanian theaters.)
January 2014: The international trailer for "Vol. II" is surprisingly mild.
January 2014: The Romanian Cinema Board revisits the movie two days later and lifts the ban.
February 2014: When a reporter at a Berlin Film Festival press conference asks LaBeouf about the movie's sex scenes, he responds, "When the seagulls follow the trawler, it is because they think sardines will be thrown into the sea. Thank you very much." He then gets up and walks out. Later in the festival, LaBeouf appears on the red carpet donning a paper bag over his head that reads "I am not famous anymore." He will participate in no further press for the movie, unless his bizarre art installation counts. March 2014: Turkey's film board bans "Nymphomaniac: Vol. I."
March 2014: Don't worry, "Vol. II" isn't that tame. The U.S. trailer is technically suitable for work, but it's bizarre and implies there's a lot that isn't shown (which is totally true). Witnessing the sex scenes being filmed on set made Thurman "blush."
March 2014: "Vol. I" opens in U.S. theaters.
April 2014: "Vol. II" opens in U.S. theaters.
BEFORE YOU GO
PHOTO GALLERY
'Nymphomaniac' NYC and Berlin Premieres