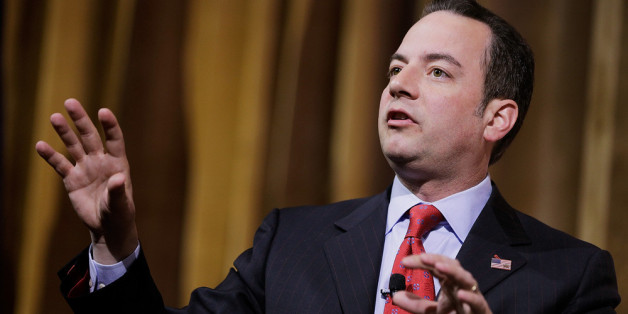 Back in March of 2013, the Republican National Committee undertook an organization-wide wound-licking from its subpar 2012 campaign efforts, coming up with a report called the "Growth And Opportunity Project." Colloquially known as the "RNC autopsy," the report was billed as the "most comprehensive post-election review" ever attempted. And it lived up to the claim, at least on paper: the RNC examined every aspect of its campaign enterprise, from minority outreach to campaign technology upgrades to systemic reform of the nominating process to a call for greater communication between the RNC and outside groups.
Toward the end of the year, I undertook a review of this review, and found that while the RNC had made some "not insubstantial progress" toward the goals laid out in their report, it didn't really seem that too many people either read the report or took it very seriously. Nevertheless, the RNC is out with a new video, reminding everyone of their grand undertaking, and touting their progress on the way to growth and opportunity. Not surprisingly, it takes less than two minutes to breeze through the talking points:
Highlights include:
A reminder that they did this thing called "the Growth and Opportunity Project," and promised to "set a new standard."
The RNC has made an effort to "build a permanent ground campaign." A news clip highlights a $10 million commitment to put "staff in urban communities."
The RNC has made an effort to "close the digital divide," with the launch of "Para Bellum Labs." (It's an odd name.)
Reince Priebus says that they are "listening to voters" to whom they've not previously listened and "competing in regions" in which they've not previously competed.
The RNC gave a bunch of African-American Republicans some awards at an award ceremony.
"Big reforms are coming to their presidential nominating process." This is perhaps the most significant and sweeping progress the Committee has made over the past year. (The media is blamed for ruining the old nominating process, what with their bush league "pointing cameras at it" and "writing down what people said during it" tactics.)
For some reason, the video makes brief mention of how the RNC went out of their way to help Hillary Clinton, by opposing and eventually preventing a pair of televised projects focused on Hillary Clinton from happening, including a CNN documentary that was being created by a Clinton critic.
There is also some whooshing music and stock footage.
Several major planks of the Growth And Opportunity Project go without specific or explicit mention, including outreach to women, restoring peace between the RNC and any number of satellite groups that have become ideological competitors for the GOP base, or the forceful calls for economic populism. (Quoth the autopsy: "We should speak out when a company liquidates itself and its executives receive bonuses but rank-and-file workers are left unemployed. We should speak out when CEOs receive tens of millions of dollars in retirement packages but middle-class workers have not had a meaningful raise in years.")
Of course, one significant component of the Growth And Opportunity Project is comprehensive immigration reform, an issue that the RNC, one year ago, urgently championed. Here's the RNC's report on that matter:
As stated above, we are not a policy committee, but among the steps Republicans take in the Hispanic community and beyond we must embrace and champion comprehensive immigration reform. If we do not, our Party's appeal will continue to shrink to its core constituencies only. We also believe that comprehensive immigration reform is consistent with Republican economic policies that promote job growth and opportunity for all.
And here's what this new video has to say about the matter:
Yeah, despite the RNC's urgings, we're not close to passing the immigration reform bill that's long been championed by the GOP establishment. Credit Sen. Ted Cruz (R-Texas) for creating some significant cross-currents against the initiative: back in December, Cruz appeared on Houston talk-radio host Michael Berry's show to specifically criticize the reform effort, saying that the GOP had an "incredible opportunity to retake the Senate in 2014" and that passing immigration reform was the "number one thing Republicans could do to mess that up."
Really, the 2014 elections are perhaps the most solid reason why much of the Growth And Opportunity Project is failing to find traction. The GOP is heading toward a very successful midterm showing in 2014, just based on electoral fundamentals, so where's the incentive to change? Well, as our own Jon Ward reported, at least one "veteran Republican digital consultant," Michael Beach of Targeted Victory, foresees a scenario in which 2014 successes could only end up serving to "reinforce more bad habits."
As Beach told Ward, "For us, I think it's going to be a rude awakening in '16."
[Would you like to follow me on Twitter? Because why not?]
BEFORE YOU GO
PHOTO GALLERY
GOP Women In Congress