Pamela Anderson was apparently worried short hair would affect her sex life.
The bombshell, who has been famous for her long platinum locks since 1992, chopped her hair into a pixie cut in October for a dramatically new look. In the April 2014 issue of Elle, she says she was unsure about the change and what it would mean for her bedroom activities.
"At first I thought I looked like Anderson Cooper or like a Q-tip or something," Anderson told Elle. "But now I feel really powerful. I have a friend who is an awesome, studly man, and he goes, 'You know, some women cut their hair and it makes them look even more masculine, but you look even more feminine.' I thought it would be weird having sex with short hair but then I kind of got into the mode."
Her romantic life certainly didn't take any downward turn. In January, she announced she had remarried ex-husband Rick Salomon. With new hair and a new(ish) husband, the former Playboy centerfold is in a different place.
"The rock star thing became very destructive, like, wow. I didn't know what I was doing," she said. "I just kind of became that thing. The hair, that rock star kind of lifestyle, just living a dream. It kind of took over. It started out very innocent and then I turned into a cartoon character. And I started to feel like a cartoon character."
Check out the full interview in the April 2014 issue of Elle, on newsstands March 25.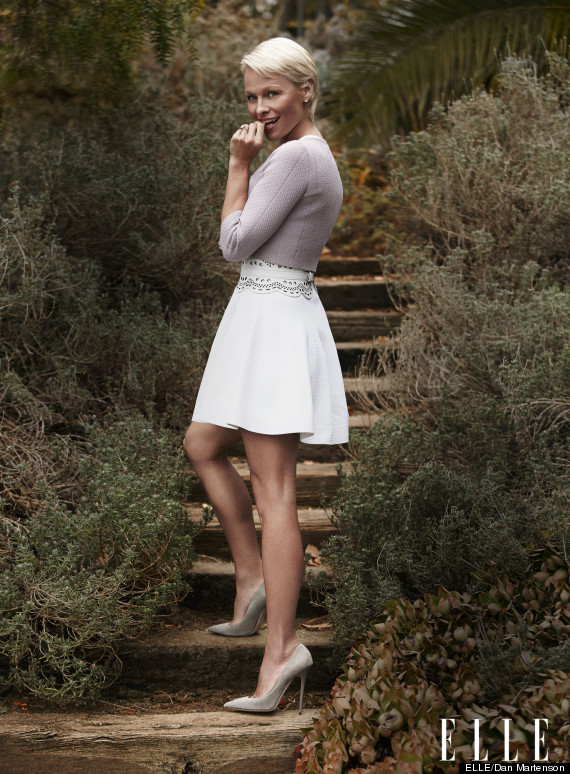 BEFORE YOU GO
PHOTO GALLERY
Pamela Anderson