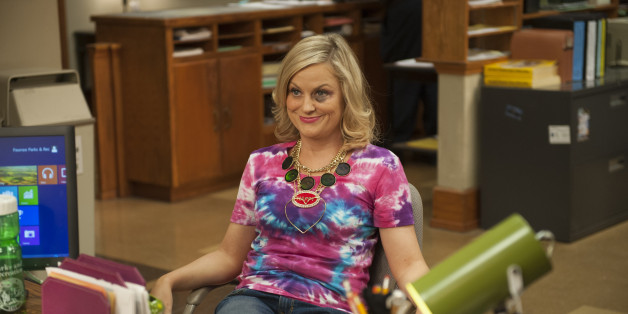 The Season 6 finale of "Parks and Recreation" is still a ways off, but it's never too early to start getting excited for it. After all, if anyone knows the value of being over-prepared, it's Leslie Knope.
The cast of the hit NBC show made an appearance at PaleyFest and, much to the delight of fans, revealed just a few details about the upcoming season finale.
The hour-long episode will apparently be chock full of grade-A surprises. "The stuff that happens in that last episode is bonkers," Poehler told the crowd. So bonkers, in fact, that the newest Pawnee/Eagleton arrival, Billy Eichner (Craig), called it a "'Parks and Rec' circus."
"It's the biggest yet, with the highest production values, the most cameos and a lot of surprises. A lot of shit happens," Poehler told The Hollywood Reporter.
A lot of shit, indeed. With Chris and Ann out of the picture, Pawnee has already gotten a taste of the big changes ahead. Jim O'Heir (Jerry/Larry/Gary) said that the Season 6 finale "changes things, and opens up a lot of possibilities for next season," while Poehler said that she did not envy the writers who would have to figure out the story's next steps in Season 7. According to Entertainment Weekly, "Parks and Recreation" co-creator Michael Schur did hint that Ben's awesomely nerdy role-playing game The Cones of Dunshire might just return for another appearance, so we've got that to look forward to.
Sure, we're left with a thousand questions. Will Leslie take the new job she's been offered? Will we ever see a playdate between John Swanson and Chris and Ann's baby? Will we get to see Andy hilariously perform another children's concert? With so much up in the air, the only option is to keep watching.
BEFORE YOU GO
PHOTO GALLERY
'Parks and Recreation'