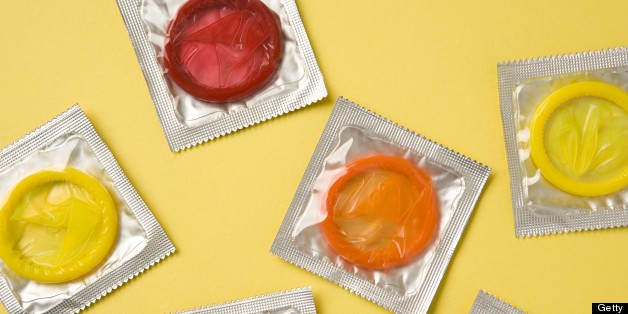 One of the nation's largest public school districts will be expanding a pilot program that makes free condoms available to high school students.
Beginning this fall, 24 more of Chicago Public Schools' 106 high schools will make free condoms available for their students, CPS announced Wednesday, according to the Chicago Sun-Times.
The condom program is part of a broader teen pregnancy prevention initiative being funded by a $20 million federal grant at a time when, according to CPS officials, over half of the district's high school students report being sexually active but just less than two-thirds of them say they used condoms within the last month, NBC Chicago reports. The same initiative helped fund the provocative 2013 ad campaign that featured images of "pregnant" teenage boys.
Free condoms are already available for students at two CPS high schools -- Collins and Foreman -- and the school district will be working in partnership with the Chicago Department of Public Health to choose which of the district's schools will join them in participating in the pilot program, the Sun-Times reports. CDPH already distributes free condoms at over 400 locations throughout the city.
While Chicago's teen pregnancy rate has been dropping in recent years -- it decreased 33 percent between 1999 and 2009, according to the most recent CDPH estimates -- it still remains among the highest in the nation, at one and a half times more than the national average. Teen HIV infections are also on the rise in Chicago, according to the Associated Press.
Asked about the program Wednesday, Mayor Rahm Emanuel said it has his support, adding that the availability of condoms for students "doesn't absolve a parent from talking about it with their child about responsibility, behavior and respect," according to DNAinfo Chicago.
The expansion of the CPS condom program will come ahead of the district implementing new comprehensive sex education curriculum for all grade levels -- starting with age-appropriate basics of anatomy, reproduction, healthy relationships and personal safety for kindergarteners -- beginning in 2016.
In New York City, where the teen pregnancy rate is half that of Chicago's, public high schools are required to provide free condoms in health resource rooms as part of the school district's condom availability program, though parents can opt out on behalf of their children.
High schools in other cities across the nation -- including Philadelphia and Boston -- also make condoms available to their students in an effort to reduce teen pregnancies and sexually-transmitted infections.