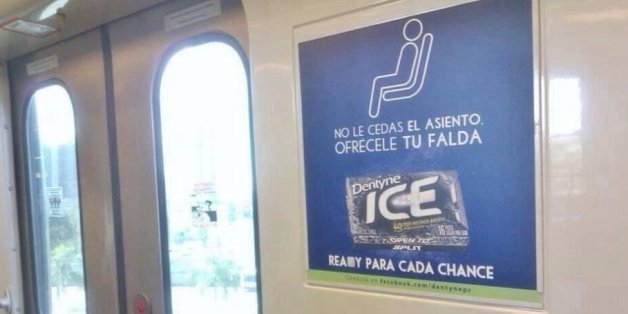 This chewing gum is ready for any chance at sexual harassment.
The Puerto Rican government pulled ads for a Dentyne Ice posted on the public transportation system Wednesday after angry reactions from people who viewed the ads as sexist, Puerto Rican daily El Nuevo Día reports.
Showing a seated man, the ad reads: "Don't give up your chair. Offer your lap. Dentyne ICE: Ready for every chance."
Irate Twitter user Marcos Vélez posted the image, with a message reading "this stupidity from Dentyne Ice should be repudiated by everyone, it's a disrespectful, sexist ad."
Estas estupideces de Dentyne Ice deben ser repudiadas por todos, es una falta de respeto y un anuncio sexista. pic.twitter.com/za3rlGfqmv

— Marcos Vélez (@MarcosAVelez) March 19, 2014
A Change.org petition calling for the recall of the ads fielded more than 1,300 signatures by Thursday morning.
"This campaign incentivizes masculine behavior that threatens women," the petition reads. "It also portrays men as irrational beings, incapable of controlling their impulses and treating women with respect."
It wasn't the only ad hashed out by the Dentyne Ice team in Puerto Rico and its agency McCann. According to Primera Hora, the campaign also included the slogans "If your body were a mountain, I'd be a mountaineer" and "I want to be the sun so I can heat you up all day."
Dentyne Ice is a minty chewing gum normally noted for its cooling flavor, though the line also features a "Dentyne Fire" gum flavored with cinnamon.
The Puerto Rican Attorney's Office for Women, a government agency that works to reduce gender discrimination on the island, called the ads "shameful" and "sexist," according to California daily La Opinión.
Company representatives did not immediately respond to a request for comment. Officials with Dentyne Ice on the island apologized for the ads in a statement, according to El Nuevo Día.
"It was never our intention to encourage inappropriate behavior with any of our advertising material," the statement said.
BEFORE YOU GO
PHOTO GALLERY
71 Puerto Rican Celebrities