You've likely seen Pamela Anderson nude before, but probably never like this.
The former "Baywatch" star made a career out of bouncing along beaches in that iconic red swimsuit and stripping down for the pages of Playboy. But at the age of 46, the mother of two is rocking a platinum pixie cut and posing for photographer Sante D'Orazio for some NSFW photos in French magazine Purple.
In addition to taking it all off for the magazine, the actress, who is confirmed for a role in Werner Herzog's upcoming film "Vernon God Little," also appears in the April issue of Elle. Though it's been almost 20 years since her infamous sex tape with then-husband Tommy Lee was released, it's still something she's asked about -- especially since she's the mother of two teenage boys.
"I don't know if they've seen it, but they know about it," the blonde bombshell said. "They know about everything. Stupid Internet. I don't know why everyone is so impressed with it."
CLICK HERE TO SEE PAMELA'S GORGEOUS NSFW NUDE PHOTOS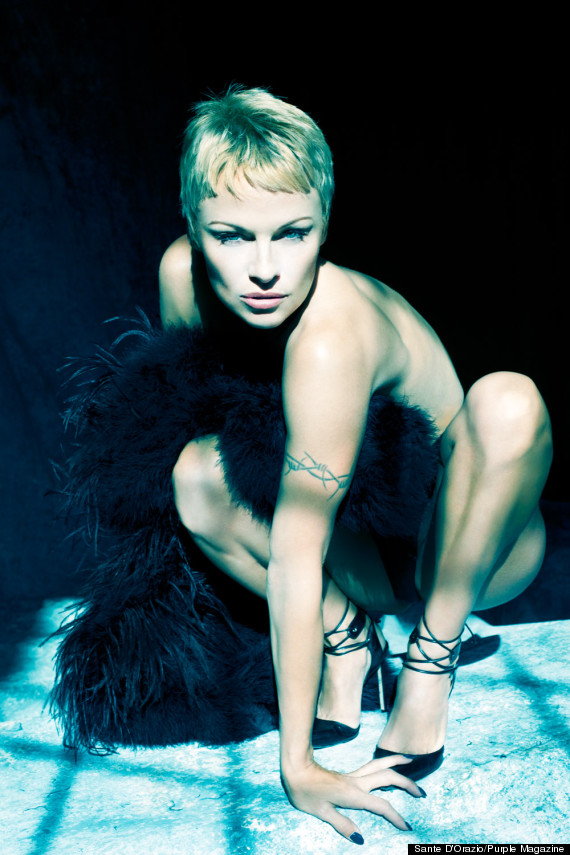 Head over to Purple magazine for more with Pamela Anderson and more beautiful photos from Sante D'Orazio.
BEFORE YOU GO
PHOTO GALLERY
Pamela Anderson