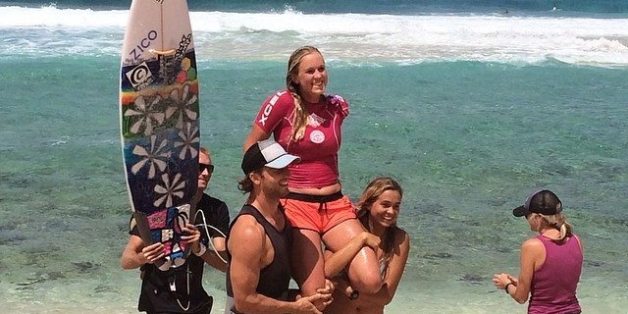 The definition of resilience might as well include the name Bethany Hamilton.
On Thursday, eleven years after losing her left arm during a shark attack, the inspirational 24-year-old won the Surf-N-Sea Pipeline Women's Pro, a major event in the realm of women's surfing.
The Kauai-born Hamilton -- also known as the Soul Surfer -- took on two Hawaii surfers and a competitor from Japan in the final round, beating her competitors by a wide margin with two scores of 7.25 and 7.75.
This was Hamilton's first win in ten years, but -- to be fair -- she's been pretty busy. Between accomplishing one of the most incredible post-accident comebacks we've ever seen, meeting with the President, falling in love and getting married, and hosting kids' surf contests, we don't hold it against her.
"I usually lose so this was great," she said in an interview with ASP after her win. "In my first heat I got a little barrel and I wasn't even expecting it but I always keep my eye out because you never know out here ... that was a pleasant surprise."
Pipeline, on Oahu's North Shore, is one of the world's most challenging and feared waves, making even the world's best surfers (ahem, Kelly Slater) look like newbies.
But Hamilton is no ordinary surfer. Between her performance on Thursday, her resilient spirit, and her humble attitude, this surfer chick is our ultimate role model.
Below, see Bethany Hamilton shred Pipeline like a true champ. (Note: video below was taken in Dec., 2013)

BEFORE YOU GO
PHOTO GALLERY
Hawaii In Photos