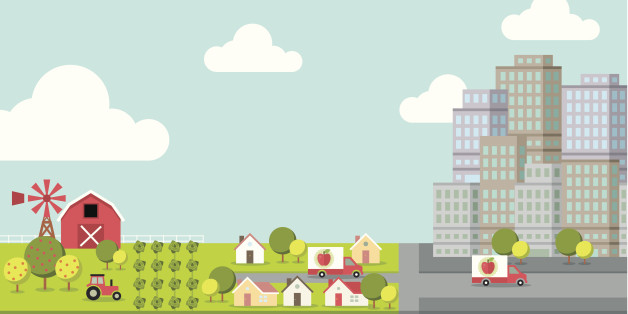 The political gap between urban and rural America has grown wider. Americans see Hillary Clinton's potential to be the first woman president as her most positive attribute. And a DC mayoral poll provokes an argument over landline-only polls. This is HuffPollster for Friday, March 21, 2014.
POLITICAL DIVIDE BETWEEN RURAL AND URBAN GROWS - Laura Meckler and Dante Chinni: "There have always been differences between rural and urban America, but they have grown vast and deep, and now are an underappreciated factor in dividing the U.S. political system, say politicians and academicians….In many ways, the split between red Republican regions and blue Democratic ones—and their opposing views about the role of government—is an extension of the cultural divide between rural Americans and those living in cities and suburbs. As Democrats have come to dominate U.S. cities, it is Republican strength in rural areas that allows the party to hold control of the House and remain competitive in presidential elections….David Wasserman, who analyzes politics at the Cook Political Report, measures the change by examining how Democratic presidential candidates performed in counties with a Whole Foods —the upscale grocery store that stocks organic goods—and in counties with a Cracker Barrel, the homestyle restaurant featuring chicken n' dumplings.In 1992, Bill Clinton won 60% of the Whole Foods counties and 40% of the Cracker Barrel counties, a 20-point difference. That gap that has widened every year since, and in 2012, Mr. Obama won 77% of Whole Foods counties and 29% of Cracker Barrel Counties, a 48-point difference." [Wall Street Journal]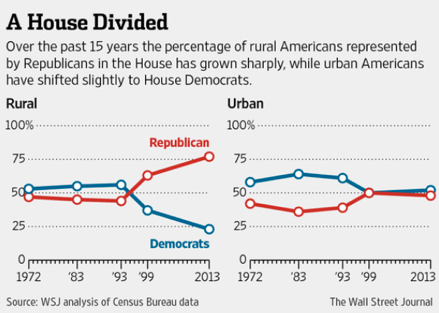 POTENTIAL TO BE FIRST FEMALE PRESIDENT A POSITIVE FOR CLINTON - Frank Newport: "Americans say the best or most positive thing about a possible Hillary Clinton presidency -- if she were to run and be elected in 2016 -- would be her serving as the first female president in the nation's history. Other positives mentioned by at least 5% of Americans are her experience, that she would bring about change from the previous two administrations, that she would adhere to a Democratic agenda, and that she would be the best choice….Americans volunteer a varied list of personal characteristics when asked to think about the negatives if Clinton were to be president. These include a simple perception that she is not qualified, negative reactions to the fact that she would be a woman president, views that she is dishonest, and the fact that her husband, Bill, would be back in the White House." [Gallup]
DC MAYORAL POLL FINDS GRAY, BOWSER TIED - Will Sommer: "Ward 4 D.C. Councilmember Muriel Bowser is in a dead heat with Mayor Vince Gray in the mayoral race two weeks before the primary, a new poll commissioned by Washington City Paper and WAMU's Kojo Nnamdi Show reveals. Bowser and Gray both received 27 percent of the vote in the poll of 860 likely Democratic primary voters. The automated phone poll, conducted between March 13 and 16 by Public Policy Polling (PPP), is the first public poll since shadow campaign benefactor Jeff Thompson pleaded guilty to conspiracy charges and accused Gray of knowing about the scheme last week, and it shows voters heavily believe Thompson's account." [Washington City Paper]
No cells - PPP's use of use of a landline-only sample drawn from the official list of registered voters, started a conversation on Twitter:
-Candidate Tommy Wells, whom the poll showed receiving just 9 percent, slightly less than on two previous public polls conducted by other organizations: "City Paper published an election poll today that only called landlines. Not sure how many Wells supporters have landlines. I don't." [@TommyWells]
-Pollster Jim Hobart (R): "a poll can be 'right' without calling cells, but, a landline only poll is still polling malpractice." [@thejimhobart]
-Jonathan Robinson (D):"Do you think that mayoral primary voters are THAT different from the landline population? My thought is probably not." [@jon_m_rob]
-Politico's Steven Shepard, responding to Robison: "Definitely less cell-only than the overall District population. But 46% of adults were cell-only in 2012...To be clear, much less cell-only. But even then they could be missing 20-30% of primary voters." [@POLITICO_Steve here and @POLITICO_Steve]
-Washington City Paper editor Mike Madden: "Those of you complaining about @wcp using landline-only robocall poll: Buy more ads and we'll be able to afford live-dialing next time…but also, @ppppolls has been very, very good in recent D.C. elections." [@MikeMadden here and here]
How much of a difference? - A previous Marist/NBC4/WAMU poll of D.C., conducted in late February, called dual samples of landline and cell phones and broke out results for each. Their results showed Gray leading Bowser by a slightly smaller margin on the landline sample (29 to 20 percent) than on the cell phone sample (30 to 17 percent) although the differences were too small to be considered statistically significant. The Washington Post polling team released similar numbers via Twitter: Grey's margin over Bowser was slightly smaller on the landline sample (25 to 16 percent) than among those contacted by cell phone (29 to 10 percent). Note that in both cases the cell phone subgroup is based on those reached by cell phone, and includes Washingtonians who use both mobile and landline phones as well as those who are cell only. [Marist]
WHICH PROFESSIONS HAVE THE RICHEST PARENTS? - Quoctrung Bui: "A few weeks ago, we were sitting around the office arguing over this simple question: Who had richer parents, journalists or people working in finance? Doctors or artists? More generally: What's the link between household income during childhood and job choice during adulthood?...To look at social trends more broadly, here is a scatter plot based on income percentiles. As you move to the right on the graph, you find people who grew up in richer households; as you move up on the graph, you find people who have high incomes as adults. People above the line are doing better than their parents in terms of income; those below the line are doing worse." [Planet Money via Pew]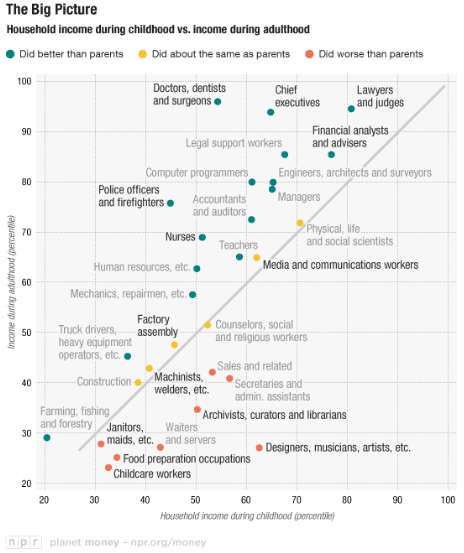 HUFFPOLLSTER VIA EMAIL! - You can receive this daily update every weekday via email! Just click here, enter your email address, and and click "sign up." That's all there is to it (and you can unsubscribe anytime).
FRIDAY'S 'OUTLIERS' - Links to the best of news at the intersection of polling, politics and political data:
-American views of Russia hit a new low. [YouGov]
-Harry Enten finds Republicans more split than usual on their preferences for a 2016 GOP nominee. [538]
-Charlie Cook sees six ways Washington will remain the same in the next few years, including a GOP House, a closely divided Senate, and stagnant approval ratings for Obama. [Cook Political]
-Mississippians remain the most likely to struggle to afford food. [Gallup]
-The American Association for Public Opinion Research announces its 2014 award winners. [AAPOR]
-PPP's Tom Jensen is not a Duke fan. [@ppppolls]
-Ipsos' Julia Clark named Technology Achiever [Ipsos]
-New York Times crossword clue: "Pollster Greenberg" [@GQRResearch]