Every time we think we've seen the most insane Bloody Mary ever created, another bar puts the title to shame.
And -- dare we say it -- this one at Score on Davie tops them all.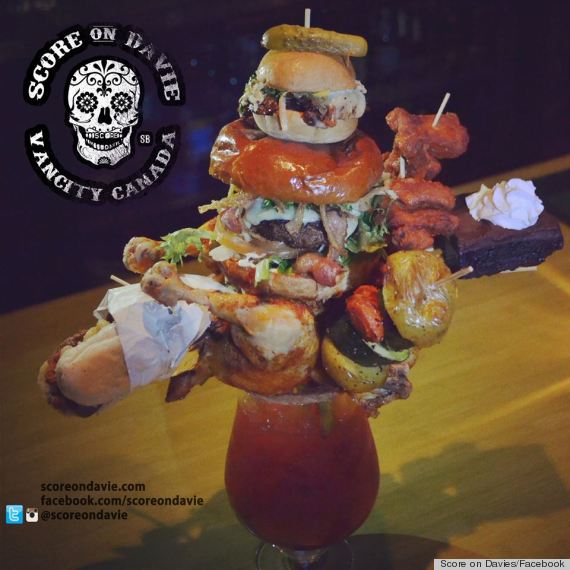 This Caesar (basically a Canadian Bloody Mary) is ridiculous, boasting ingredients that range all the way from savory to greasy. Want a roast chicken with your Bloody buzz? Done. In the mood for a hot dog? No problem. Something for your sweet tooth? No need to order another dish -- the drink also comes with a brownie.
It's a good thing this drink comes with a few side dishes, because it costs about as much as an appetizer and an entree. Coming in at $53 U.S. (the bar is located in Vancouver), the Checkmate Caesar is fit for two people, and takes a little less than half an hour to prepare. The owner, Jesse Ritchie, explained the creation to Eater Vancouver: "It seems hard to balance but it's actually pretty easy, we just use a few skewers and some techniques we've picked up with the heaped-high Caesars we already sell." As long as we can still sip it, we're game!
To see other crazy cocktail concoctions from this Canadian sports bar, check out the Caesar Madness here. (Also -- the Checkmate isn't available for brunch on Saturday or Sunday, and it's only around for a limited time! Get to drinking!)
Want to read more from HuffPost Taste? Follow us on Twitter, Facebook, Pinterest and Tumblr.
BEFORE YOU GO
PHOTO GALLERY
Over-The-Top Bloody Marys