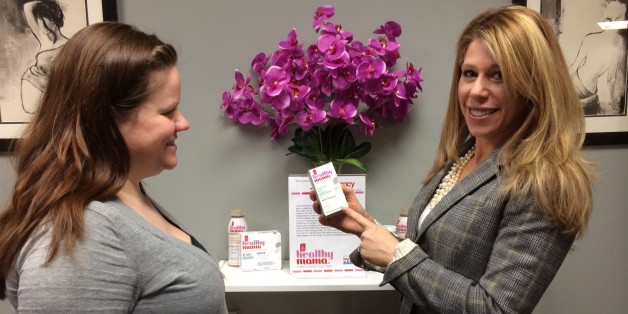 "One of the reasons I started my website is that I wanted a place for women to come together and dream. We women need to know that we don't have to hang on to an old dream that has stopped nurturing us -- that there is always time to start a new dream. This week's story is about a mother-to-be who couldn't find a safe remedy for a health issue she was having, so she decided to create a solution. Her line of products is now sold in major retail stores all over the U.S., and is projecting 3.5 million dollars in revenue! " -- Marlo, MarloThomas.com
By Lori Weiss
It was nine o'clock in the evening and Rachel Katz-Galatt was feeling pretty miserable. She was 6 months pregnant with twins, and feeling the effects of one of the many pesky ailments that come along with pregnancy. She was constipated.
"I called my OB/GYN to ask her what I could take," Rachel recalled, "but when I didn't hear back from her in a timely fashion, I went to the internet and began searching for something I could take safely. I went to a number of sites, but I kept finding conflicting information. I had no idea what to do. But we lived above a pharmacy, so my husband, David, and I went downstairs and figured we'd ask the pharmacist."
To the couple's surprise, even the pharmacist didn't know what to tell them. Or she wasn't willing to take the risk of making a suggestion. She said she couldn't be certain what was safe.
"The way the FDA rating system is set up right now, no one can guarantee that any product is safe to be taken during pregnancy," Rachel explained, "They can tell you what's safest. No one has actually tested over the counter medications on women who are pregnant. So we have to rely on what our doctors tell us to take and generally those are medications that women have used during pregnancy for years with no known side effects."
Rachel was desperate for a solution, and with no word from her doctor, she felt like her only option was to search the aisles for something that seemed harmless. So she and her husband moved from row to row. Frustrated with the search, David casually said, "I can't believe there's not a brand that's just for pregnant women." And that's when, as Rachel puts it, "The lights got brighter and you could almost hear the angels sing." It was an 'Aha' moment that would not only change the couple's lives, but could potentially create an entirely new category on drugstore shelves.
But before Rachel could change the way women shopped, she had to deal with the issues at hand. She bought a suppository, which solved her immediate concern. Weeks later though, there was a much bigger problem. Rachel was racing to the hospital. She was in labor at only 24 weeks.
"When I got to the hospital, I was dilated to three centimeters and they gave me Magnesium Sulfate, to prevent the babies from coming too early. But I could feel the contractions becoming stronger. When the doctor came back in, she saw that I was dilated to six centimeters and threw a gown to David. I remember her saying, 'Get dressed -- we're going to the operating room.'"
At that moment, the drugstore aisles were the last thing on Rachel's mind. Maxx and Mia were born weighing less than two pounds each. Three days later, Mia was fighting for her life and little Maxx had lost his.
"We were devastated," Rachel said softly. "I've always been an optimist, but that day, all my positivity went away. I realized I had no control. I couldn't fix this. They didn't think Mia was going to make it either. There were infections, blood transfusions and four surgeries. We'd go home every day and pray that we wouldn't get a phone call."
"While I was in the hospital with Mia, I had a lot of time to think. I wanted to know what caused this and no one had any answers. I thought about that suppository -- about when I took it and when I went into labor. It was all such a whirlwind."
"In my case, I don't believe there was any connection. I can't even tell you how close the two events were. But when I started doing research, I did find information that said the medication I took could cause pre-term labor. That made me think even more about what David said that day in the drugstore. There needed to be a brand that pregnant women could feel confident taking when they had simple ailments like a headache or acid reflux or constipation."
Five months later, when Mia was finally well enough to go home, Rachel, who had spent her career building brands for companies like Calvin Klein and Victoria's Secret, decided to dig deeper. And by the time Mia turned one, the new mom, who just happened to be pregnant again, left her full time job and set out to make a difference for moms all over the world.
Article Continues Below Slideshow
PHOTO GALLERY
Rachel Katz-Galatt
"We'd just bought a house, based on having two salaries," Rachel continued, "and I found out my position was about to be eliminated. The company offered me something else, but I knew it would take me down an entirely different career path and I kept thinking about this void in the market. David had so much confidence in me and we had both put money away. So I decided to invest $3,500 into market research and tapped into 500 women who were either pregnant or nursing. Their feedback was so overwhelmingly positive I knew I had to go full speed ahead."
So once Rachel gave birth to the couple's second daughter, Zoë, she moved forward and pulled together a medical advisory board. With the help of an OB/GYN, a maternal fetal nurse and two prenatal nutritionists, who reviewed ingredients and dosing, along with input from the Organization of Teratology Information Specialists (OTIS), she developed a line of products called Healthy Mama -- an instantly recognizable brand, infused with a sense of humor.
With names like Shake That Ache!, Tame the Flame!, eaZZZe the pain! and Move It Along!, Rachel began building her vision. She even worked with her team to develop a proprietary formula for a prenatal vitamin and an energy drink that not only gives expectant moms a boost of protein, but helps to fight nausea.
But before the determined entrepreneur even considered showing the products to retailers, she lined up manufacturing partners and engaged a graphic designer to develop her packaging. And then, she said with a smile, she began stalking a broker.
"The last company I worked for used brokers, so I called one who had connections to the stores I thought my products should be in. I emailed him once a week. And he'd write back, saying he was busy or traveling. But I was persistent. And finally I got him to agree to a conference call. When we finally met, and he saw the packaging we'd created, I think he was blown away by how much we'd accomplished."
The broker agreed to work with Rachel and set up their very first meeting with Babies "R" Us. Not one pill had been manufactured. But Rachel had a concept, a business plan, partners waiting in the wings -- and a whole lot of passion.
"Three minutes into the meeting," Rachel remembered, "the buyer said, 'When can you ship?' I was shocked. I just kept watching him flip through the pages of our presentation. I didn't even know to react. All I could think was, Is this real? I remember walking to my car very calmly. I had to contain myself until I was sure no one could see me. Then I just started screaming."
And while the original plan was to start with 100 stores, when Rachel received the purchase order, it was for 50,000 units. Babies "R" Us wanted Healthy Mama to be available throughout their entire chain. They even purchased enough to begin stocking some of their Toys "R" Us locations. And it wasn't long before Buy Buy Baby was on board too.
Since October of 2013, Healthy Mama has already brought in $400,000. The company is expecting revenue of 3.5 million dollars this year and they're currently in discussions with major drugstore chains. And it's not only retailers that are interested. Angel investors are now lending a hand and there are even some doctors that are a little envious of the million dollar idea.
"We went to a regional medical convention recently and I was so nervous that we might hear something negative. I thought doctors might think that we were stepping on their toes. But when one walked up and said, 'This is genius, why didn't I think of this idea?' I knew we were on our way."
"Healthy Mama has given me a real purpose and a mission," Rachel said proudly. "While it's important that women continue to consult their health care providers for medical advice, I love waking up every morning knowing that I'm creating change. I feel like I'm not only providing convenience, but peace of mind for mothers everywhere."
Add Marlo On Facebook:
Follow Marlo on Twitter:
Sign up to receive my email newsletter each week - It will keep you up-to-date on upcoming articles, Mondays with Marlo guests, videos, and more!