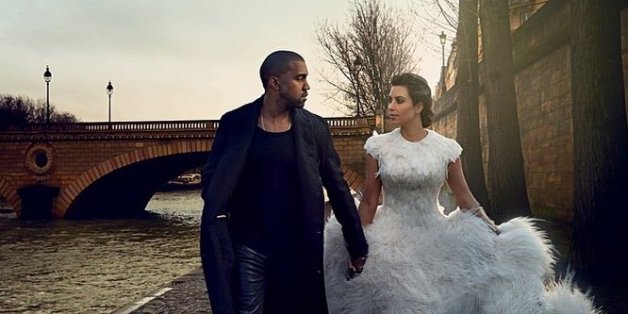 Middlebrow is a recap of the week in entertainment, celebrity and television news that provides a comprehensive look at the state of pop culture. From the rock bottom to highfalutin, Middlebrow is your accessible guidebook to the world of entertainment. Sign up to receive it in your inbox here.
On Friday, March 21, Vogue released its April cover: Kim Kardashian, held tenderly by a vampire Kanye West stood above #TheWorldsMostImpracticalHashTag: "#TheWorldsMostTalkedAboutCouple."
The reaction was instant, with calls to #BoycottVogue before we even had time to wonder what the "geographically named" North West thought about the whole thing. The instant and self-justified nature of the backlash can be attributed to our perception that a Vogue cover carries more meaning than its intrinsic influence. The cover is indeed a coveted achievement, but it has eclipsed itself as the coveted fashion space that Twitter has been kvetching about. If we look at the history of famous cover girls, Kimye's controversial appearance makes perfect sense.
Presumably while smoking a cigarette and drinking a martini, Anna Wintour wrote her editor's letter, clarifying that Kanye had not "begged" her to place the couple on the cover, and emphasizing that Vogue's mission is to "feature those who define the culture at any given moment." That mission dates back to the late '80s, when Wintour choose to feature pop and movie stars, while other fashion publications continued to reserve their covers for models.
Of course, those early covers were not without backlash. Though the innovation predated the hashtag, Wintour admits that she received "quite a bit of criticism" for her first Madonna cover in 1989. Through the '90s, she used the space to feature only the loveliest movie stars, with appearances from the likes of Julia Roberts and Gwyneth Paltrow. But by the end of the decade, Wintour expanded beyond Hollywood, granting covers to both Oprah and Hillary Clinton in 1998. Yet, all of the women maintained one factor in common: a role in shaping culture. Few had a specific connection to the fashion industry, such as Sandra Bullock, who has appeared on five covers thus far, but could arguably use a little sartorial assistance.
In recent years, the connection to the fashion world has only decreased. Taylor Swift, Adele and Jennifer Lawrence have earned covers, each perfectly talented, but certainly not fashion icons. Instead, all three play a preeminent role in the pop culture cosmos. In terms of being "fashion" enough, Kim and Kanye are actually more qualified than the past few years of cover girls combined. Beyond his $120 t-shirts and attempt to make leather kilts happen, Kanye is an active designer with his own label. Kim, for her part, has multiple clothing lines, as well as a franchise of boutiques. High-fashion might resist her sexpot capitalism (which is how Benjamin Wallace-Wells referred to the Kardashian brand in his 2012 profile for New York magazine), but there's no denying her participation in the industry.
Maybe we're confused by Wintour's well-maintained "old school fashion mag snobbery" (as Tia Williams put it over at Shake Your Beauty), but this magazine has not strictly featured fashion icons since its editor-in-chief pulled on her five-pound sunglasses and decided it was time for a change. Yes, being on the cover of Vogue for the first time is a "build in your career," as Naomi Campbell called it in her passive denouncement of Kimye's issue. But even Campbell has continually been featured on the magazine in part because she is not simply a model, but a public personality, who, just to repeat this for the 14th time, has a stake in shaping culture.
The perception of Vogue as a status-maker is not invalid, but it enhances rather than builds a reputation. Anna Wintour didn't pick Kimye to make them culturally relevant, but because of their preexisting prominence ... and we have a role in that. We are not passive recipients of all the culture that J.Law, Naomi Campbell and whoever else go around shaping. We pick the stars that define us, without the help of the Vogue staff's editorial judgement. Really, the infuriation over the cover has less to do with the magazine and more to do with the undeniable recognition that Kim Kardashian functions as a quintessential representation of this given moment. We enjoy the voyeurism of her scandalous and visually-pleasing antics, but perhaps would prefer not to accept the fact of her influence. Although, like it or not (and with or without Sarah Michelle Gellar's subscription to Vogue), her and Kanye's enduring fame wouldn't be decimated by swapping out the front page of a monthly magazine. As Wintour said herself, Vogue is about defining culture and "that role is currently being played by Kim and Kanye to a T. (Or perhaps that should be to a K?)"
Everything Else You Need To Know:
Follow Lauren Duca on Twitter: https://twitter.com/laurenduca
BEFORE YOU GO
PHOTO GALLERY
Kim Kardashian and Kanye West